DataSunrise Database Security for Cassandra
Cassandra Security included in DataSunrise Database Security Suite is a special database tool for protection against internal and external threats to your Cassandra databases. Casandra Security also forbids access of unauthorized users to sensitive and personal information through blocking potentially dangerous queries which rules out the slightest possibility of data leaks and security breaches.
Tech info
Cassandra Security included in DataSunrise Database Security Suite is a very powerful security feature that can protect your Cassandra database from any possible threat. To be able to do that is analyzes all database traffic in accordance with the automatic and user set Security Rules.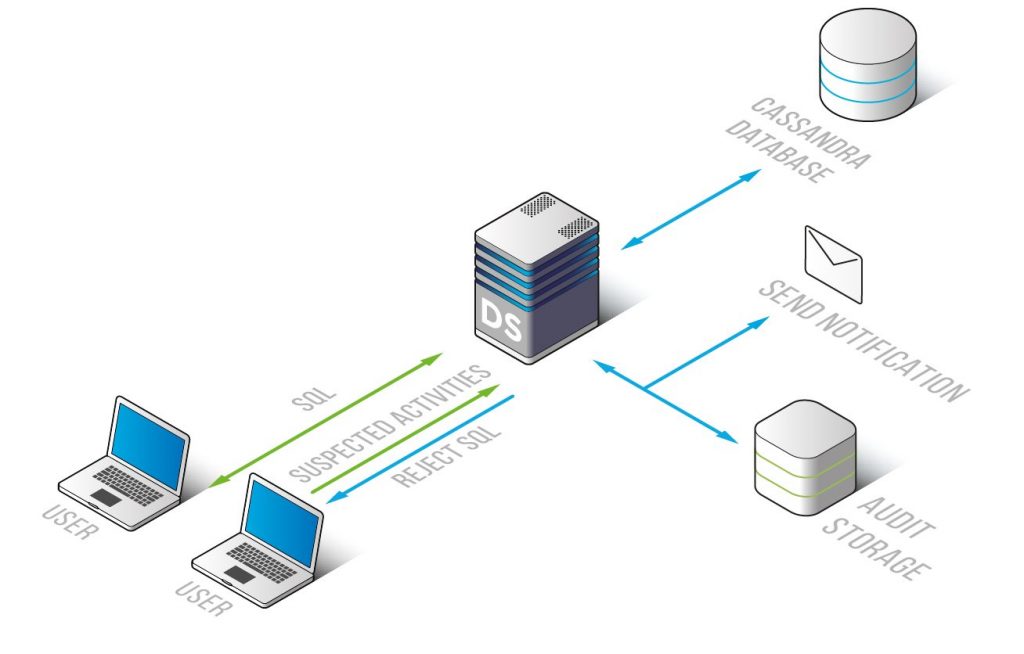 After deployment of Cassandra Security the self-learning mode can be enabled. All database traffic is examined in this mode with the purpose of creating a whitelist of approved SQL queries that are usual and specific for this environment. In other words, Cassandra Security self-learns to make difference between safe and unusual queries. The safe queries can reach the database, and in case of unusual queries database security personnel is notified or the queries are just blocked. What DataSunrise should do can be specified in the Security Rules.
Cassandra Security should be started in the Proxy Mode. Only this mode guarantees total safety of your data. All queries are tracked and logged. And based on that resulting report can be generated. Such reports give the aggregate picture of what's happening in your database and are very helpful for analysis. Alteration of security settings and configuration are logged too. In the result DB admins are under supervision too. Among other things, Cassandra Security protects against account sharing, possible SQL injections. Access to the defined database elements (tables, columns, schemas) can be banned too.
Cassandra Security included in DataSunrise Database Security is an obligatory prerequisite for compliance with national and international sensitive data protection regulations such as GDPR, SOX, PCI, HIPAA, etc.
Protection against SQL injections is especially important for any database and beside that DataSunrise provides protection against malicious code execution exploiting different vulnerabilities: Boolean and Union exploitation, time delay exploitation, out-of-band exploitation, automated exploitation.
DataSunrise Database Security Suite is fully compatible with all types of Cassandra databases. You need to make no changes to the database infrastructure. DataSunrise is a user-friendly security system that guarantees the safety of your data!