DataSunrise Database Security for Impala
Impala Database Security from DataSunrise is a specially designed tool to protect Impala databases form unauthorized access, possible SQL injections, sensitive data leakage and loss. This tool for Impala databases is also aimed at monitoring database activity, immediately notifying of any suspicious activity and eliminate vulnerabilities in database performance as well.
Tech info
Corporate data protection, confidentiality of data shall hold primacy in the company's priorities taking into account tightening database security requirements. If you're looking for the solution to meet all your Impala database security requirements you should definitely use DataSunrise.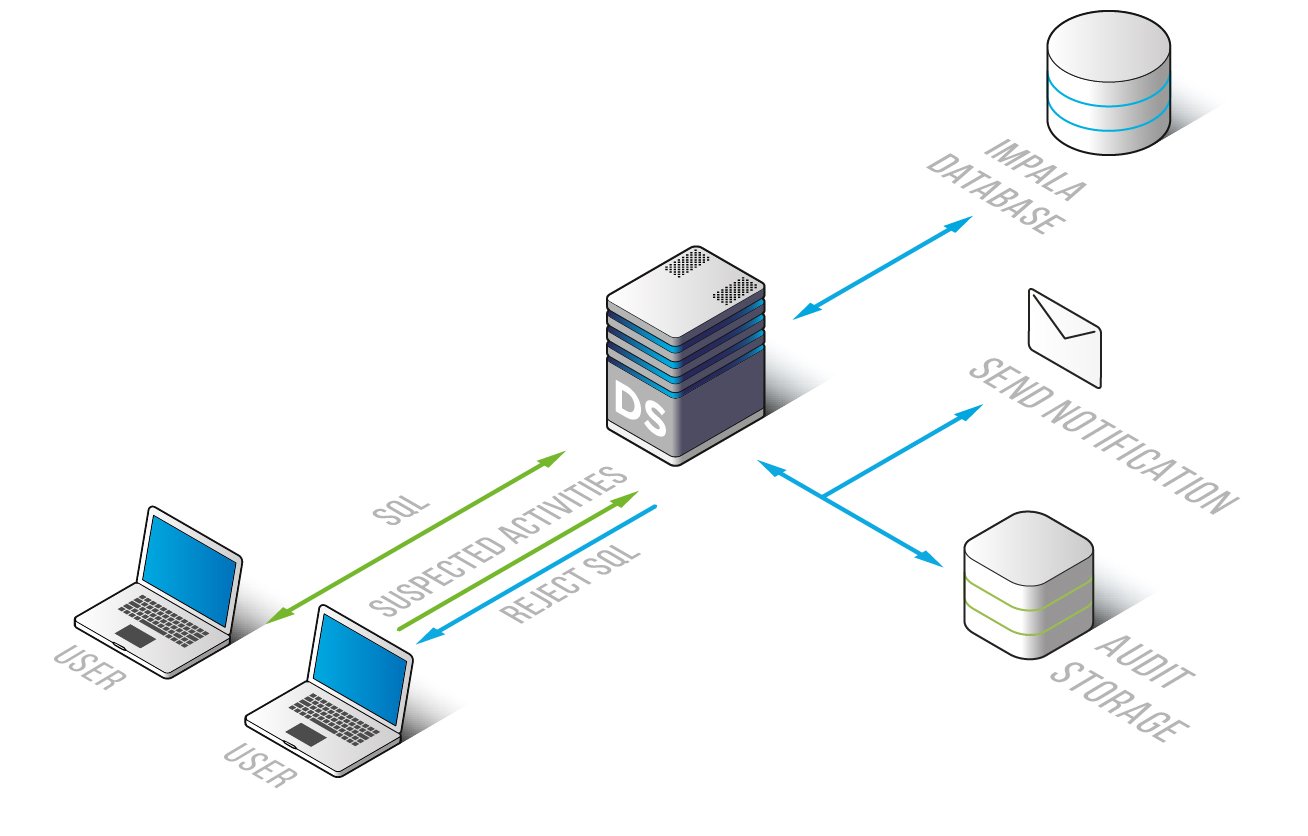 Impala Database Security can be deployed in two modes: Sniffer and Proxy. Deployment in the Proxy mode gives for DataSunrise more opportunities to protect Impala databases. When using Impala Database Security database owners and admins have complete visibility into database activity. You get access to database user and client application information, session start and end time, number of affected and updated rows, query result with the indication of database errors, if any and much other information. Impala database security team is immediately notified if there is some usual activity in the Impala databases. DataSunrise has two options to understand what activity is usual and what is not. The first option is to use the Learning mode that records typical database operations, that is authorized SQL queries to an Impala database. The second option is to use customer-set Impala database Security rules that define what actions are allowed in the database and which are not. Also, in the Proxy mode Impala Database Security intercepts all database queries and analyzes them, if they don't meet the security rules they're blocked, the user may be denied access to the database and this session terminated.
So, all-in-all, Impala Database Security protects against SQL injections, security violations that may come from the outside and inside, including access rights violations. In case some of these happen the responsible user's access to the Impala Database is suspended, all the information is collected and the security team is notified.
The introduction of Impala Database Security is another step to compliance with such national and international sensitive data protection regulations as GDPR, SOX, PCI, HIPAA, etc.
DataSunrise is your reliable supplier of Impala database protection services! Be sure to use other security tools to insure total protection of your sensitive data!