MongoDB Security Solution by DataSunrise
MongoDB Security Solution by DataSunrise is a powerful security tool created for database protection. It continuously monitors and filters inbound and outbound traffic to detect and block potentially harmful and forbidden transactions in real time. Advanced level of control guarantees that data is shielded from multiple threats, including hacker intrusions, data leaks and insider attacks.
Tech info
DataSunrise Database Security Suite for MongoDB is built as a multifunctional solution that simplifies the main procedures of maintaining database security.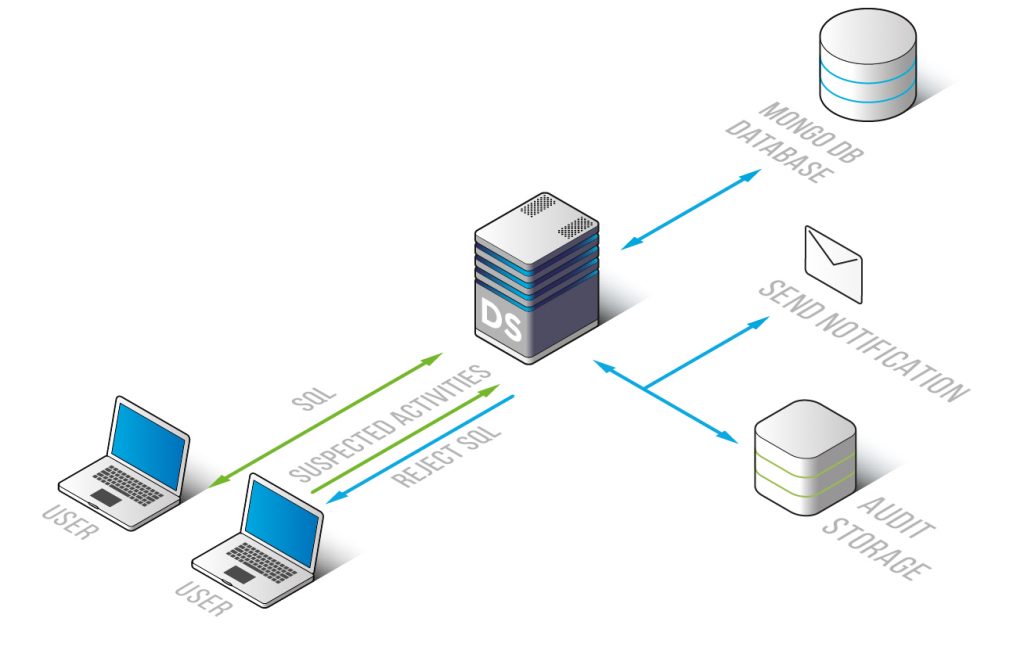 It includes functional modules of database activity monitoring, database firewall, and performance monitoring.
MongoDB security solution by DataSunrise provides reliable protection against cyber-attacks. It functions as an intermediary between the database and clients, blocking unauthorized access attempts. Scalable and flexible security rule settings allow DBAs to configure the firewall in accordance with corporate rules and requirements.
DataSunrise security solution for MongoDB continuously monitors and tracks database transactions. Whenever malicious activity is detected, it is blocked immediately, the user is disconnected from the database and a notification about suspicious activity is sent to selected subscribers via SNMP or SMPT. For advanced real-time analysis of database threats DataSunrise can be integrated with an external system, e.g. a SIEM solution.
DataSunrise Database Security Suite for MongoDB helps big and small organizations to stay compliant with a wide range of information security legislation requirements. Reports are generated for specified types of transactions.
DataSunrise includes integrated data discovery feature to find specified types of confidential data. It also has a high-availability mode in which the firewall maintains automatic failover in case the server where the firewall is installed is down.
DataSunrise Database Security Suite for MongoDB runs on both Linux and Windows and supports MongoDB 3.4.1.