Vertica Database Security
The Vertica Security solution from DataSunrise watches over our customers' company databases and renders all hacker attacks on Vertica databases ineffective. Also, it makes sure that any possible database-related vulnerabilities are taken care of. In the result, any Vertica database protected by DataSunrise is safe from data leaks and data mishandling.
Tech info
DataSunrise provides tools for Vertica that help to keep databases safe from hackers' attacks, SQL injections. Also, using Vertica Security is indispensable if a company wants to be compliant with rather stringent national and international sensitive data protection regulations. However, being very effective against internal and external threats, DataSunrise Database Security Suite is very easy to deploy and pleasant to work with. That's because our company has a huge experience in database protection and we know exactly where danger may come from and how to make database protection easy.
We strongly advise deploying Vertica Security in the Proxy mode. In this mode DataSunrise acts as an intermediary between the database server and its users. In this case, all user queries go solely through the Vertica Security tool. By this, we rule out any possibility of external threats to databases. However, threats don't come only from the outside. A lot of data leaks happen due to negligence or access rights abuse by company employees. So-called privileged users can't use any database protected by DataSunrise and leave no traces of intervention or the changes made.
DataSunrise security policy for Vertica databases is effected through a set of preset rules that say which query to a database is allowed and which is not. These rules are highly adjustable which lets setting up a security system around your databases that nothing and no one can pass without your permission.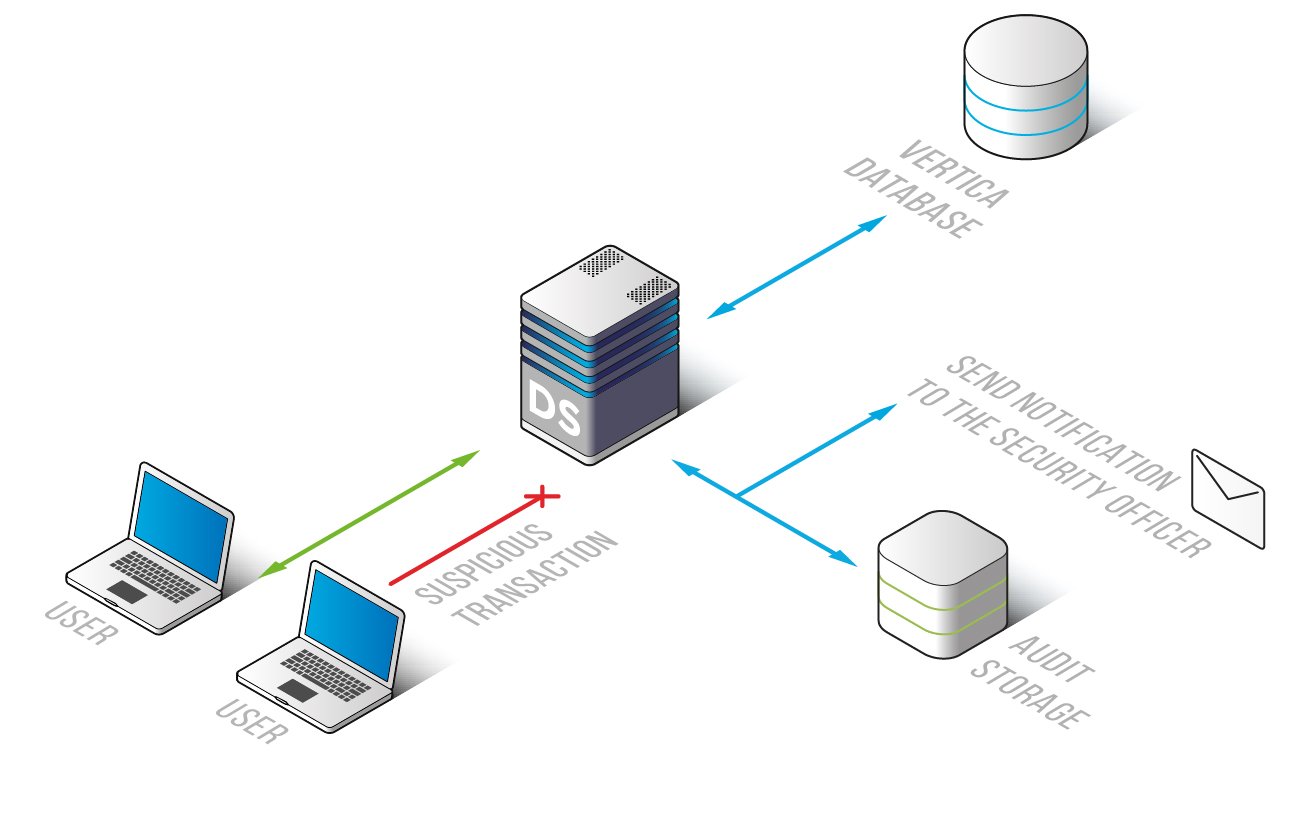 Logging and report generation is another vital part of DataSunrise Database Security Suite. This feature helps DB administrators and owners to get detailed information about all queries and the results of their execution. Such reports can be generated for any period of time. So, with DataSunrise you have full understanding of what's happening in your databases. This information is also very helpful when investigating cybercrimes. In case any query to the database doesn't meet some preset requirements, the customer's security personnel is immediately notified.
The learning algorithm included in Vertica Security simplifies the customization process of the Security rules. Also, it prevents false triggering. Database-related traffic is analyzed and a whitelist of "good" SQL queries is created. This algorithm comes in very handy when you want to deploy your database protection as soon as possible and you want it to be effective.
Vertica Security provides effective protection against SQL injections and other types of hacker attacks. In case a certain rule is breached, the blocking scenario includes user session ending or user being cut from the database.
In addition to the Security tool, DataSunrise can offer the following security features for your databases: Vertica Database Performance Monitoring, Vertica Data Masking, Vertica Database Activity Monitoring.
Use these features separately and all together to ensure full protection for your databases. Download the DataSunrise trial version right now and enjoy the total security of your data!