Database Security Digest – March 2017
Last month Gemalto published the results of their research on data breaches, revealing the 86%-increase compared to 2015. 1.4 billion data records have been compromised during 2016. To keep you aware of the latest tendencies, we've combined last month's news on database security incidents, fresh vulnerabilities and patches of database management systems.
Cybersecurity Incidents
After the rash of MongoDB attacks, FBI warned about the increase of criminal activity targeting FTP servers used by medical and dental organizations configured to allow anonymous access without authentication. Administrators should ensure EPHI (electronic protected health information) or PII (personally identifiable information) is not stored on FTP servers where the anonymous mode is enabled.
Regarding the infamous Yahoo! mega breach, US charges two Russian intelligence agents and two Russian hackers. One of the accused men has been arrested in Canada. The indictment alleges that officers from FSB Center for Information Security partnered with cyber-criminals to breach Yahoo! network and access account information and proprietary data on the creation of cookies used to access Yahoo! accounts. According to the indictment, the purpose of the attack was not only the intelligence gathering but also private financial gain. In the meantime, one million Yahoo! and Gmail account passwords are for sale on the dark web.
Neiman Marcus has agreed to pay $1.6 million to settle a data breach. In December 2013, American luxury department store Neiman Marcus was attacked, which resulted in the exposure of credit card information of its 350,000 customers. So now the company has to pay a fortune for the noncompliance with cybersecurity legislation.
ABTA, the travel trade association which represents travel agents and tour operators in the UK, has alerted users about a data breach. 43,000 of its customers are believed to be affected. Stolen data includes email addresses, encrypted passwords of ABTA customers, contact details of customers of ABTA members who have used the website to register a complaint. According to ABTA, the majority of passwords were encrypted and the risk of identity theft and online fraud is low.
Database Security
In the last week of March, Percona announced the release of Percona Server 5.7.17-12 based on MySQL 5.7.17.
The release contains bug and crash fixes and there is a new mysqldump feature that helps to backup servers and reload dump files. The feature also turned out to contain a vulnerability that will be mentioned further.
CVE-2016-5483
A vulnerability detected in the mysqldump utility of MySQL, which is used to create logical backups of databases. CVE-2016-5483 enables an attacker to execute arbitrary SQL queries and shell commands, when recovering backup using the mysqldump utility. To exploit the vulnerability, an attacker needs to acquire privileges to create tables.
MariaDB 10.1.22
Apart from fixing some known issues, the new MariaDB releasepatches two security vulnerabilities:
CVE-2017-3313
CVSS severity score: 4.7
Locally exploitable vulnerability in the MySQL Server (MyISAM subcomponent). A difficult to exploit vulnerability that allows an attacker with low privileges and logon to the infrastructure where MySQL Server executes to compromise MySQL Server. A successful attack can result in unauthorized access to critical data or complete access to all MySQL Server accessible data.
CVE-2017-3302
CVSS severity score: 7.5
A remotely exploitable vulnerability allowing disruption of the service causing crash in libmysqlclient.so. Affected versions: MariaDB through 5.5.54 and 10.0.29, Oracle MySQL before 5.6.21 and 5.7.5.
Fresh Security Flaws
CVSS severity score: 5.9
Another vulnerability has been found in xbcrypt in Percona XtraBackup before 2.3.6 and 2.4.x before 2.4.5. It exists due to an incomplete fix for CVE-2013-6394. The xbcrypt tool supports encryption and decryption of the backups. As it turned out, it does not properly set the initialization vector (IV) for encryption, allowing context-dependent attackers to obtain sensitive data from encrypted backup files via a chosen-plaintext attack. The vulnerability is remotely exploitable.
CVSS severity score: 3.1
A newly found vulnerability in IBM DB2 allows an authenticated attacker to view tables that he is not permitted to view. The vulnerability is remotely exploitable and requires authentication.
SAP HANA Security Patch
SAP patched a series of critical vulnerabilities in its cloud-based business platform HANA. If exploited, they could lead to a full system compromise without authentication. An attacker could steal confidential data in the database, disrupt key business processes and modify HTML code for sites running on HANA XS, even without having a legitimate username or password.
These vulnerabilities affect the User Self Service (USS) component which allows user self-registration, password change and reset. The service is disabled by default but some users activate it to allow external users access internal capabilities
The vulnerability in USS is estimated 9.8 by CVSS, which allows a remote attacker to take full control of SAP HANA without a username and password. It is strongly recommended to deactivate the service or apply the patch.
Another one, session fixation vulnerability (8.8 CVSS) allows an attacker to elevate privileges by impersonating another user in the system.
March Security Patch also contains fixes for DoS, remote code execution, XSS and SQL injection vulnerabilities of some components. SAP developers recommend patching HANA databases as soon as possible.
Database Security Digest – February
Database Security Digest – January
Database Security Digest – December
Next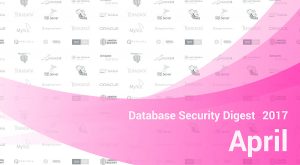 Database Security Digest – April 2017
Learn More
Need Our Support Team Help?
Our experts will be glad to answer your questions.