Database Security Digest – October 2018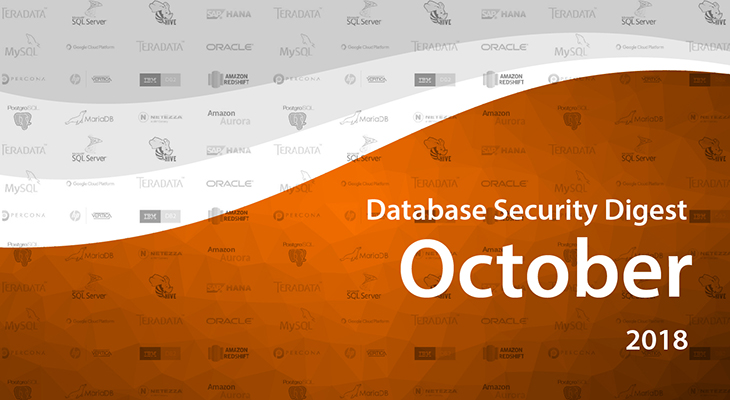 Please take a look at the biggest database security incidents in October 2018.
FitMetrics
A leading fitness software company may have exposed millions of their customers' accounts containing personal information. That happened due to a failure to protect their cloud database.
Researchers are saying that they found the exposed Elasticsearch database hosted on AWS using a very simple technique. The cloud store has 119GB of data belonging to the FitMetrics company. The researchers also found a ransom note attached to the database, though it seems that the hacking attempts were unsuccessful. And now the database is lying there exposed and unprotected. The exposed data included name, gender, email address, birth date, home and work phone, height, weight and much more. The total number of affected records is millions. The database was secured again by the company five days later.
Cathey Pacific
One more airline, namely Cathay Pacific, has fallen prey to a major data breach. It has been reported that data on 9.4 million passengers may have been stolen. The airline declared that it had found traces of unauthorized access to its IT system containing a lot of sensitive personal information, mostly of its customers.
The exposed personal data contains the following: passenger name; nationality; date of birth; phone number; email; address; passport number; frequent flyer programme membership number; customer service remarks and historic travel information. The airline is saying that no bank card information has been leaked. It's yet unknown how the hacking attack has been carried out, but the company is contacting all the affected passengers and providing them with information on steps they can take to protect themselves.
IT security experts are saying that after one successful hacking attack there will be more attempts to hack the system again and they may be successful again.
CPocket iNet
The cyber-risk team UpGuard found an AWS S3 server exposed online. The server belongs to the Washington State internet provider Pocket iNet. The company left its server without any password and virtually anyone could see what's inside their databases. The exposed information included 73 gigabytes of downloaded data. The data included passwords and other sensitive information, ranging from spreadsheets to pictures and diagrams. It took Pocket iNet about a week to secure the exposed data.
Internet service providers being a part of US Critical Infrastructure are of special interest for adverse nation-state threat groups. Pocket iNet AWS misconfiguration is reported to be the reason for this data exposure. The issue of AWS misconfiguration, unfortunately, is not uncommon and that doesn't depend on the size of a company.
Security updates for databases
Oracle
https://nvd.nist.gov/vuln/detail/CVE-2018-3277
https://nvd.nist.gov/vuln/detail/CVE-2018-3278
https://nvd.nist.gov/vuln/detail/CVE-2018-3279
https://nvd.nist.gov/vuln/detail/CVE-2018-3280
https://nvd.nist.gov/vuln/detail/CVE-2018-3281
https://nvd.nist.gov/vuln/detail/CVE-2018-3282
https://nvd.nist.gov/vuln/detail/CVE-2018-3283
https://nvd.nist.gov/vuln/detail/CVE-2018-3284
https://nvd.nist.gov/vuln/detail/CVE-2018-3285
https://nvd.nist.gov/vuln/detail/CVE-2018-3286
MS SQL Server
https://nvd.nist.gov/vuln/detail/CVE-2018-3251
https://nvd.nist.gov/vuln/detail/CVE-2018-3174
https://nvd.nist.gov/vuln/detail/CVE-2018-3156
https://nvd.nist.gov/vuln/detail/CVE-2018-3143
https://nvd.nist.gov/vuln/detail/CVE-2018-3133
https://nvd.nist.gov/vuln/detail/CVE-2018-8533
https://nvd.nist.gov/vuln/detail/CVE-2018-8532
https://nvd.nist.gov/vuln/detail/CVE-2018-8527
Amazon Athena
https://nvd.nist.gov/vuln/detail/CVE-2016-10152
Google Cloud SQL
https://nvd.nist.gov/vuln/detail/CVE-2018-1819
https://nvd.nist.gov/vuln/detail/CVE-2018-15755
https://nvd.nist.gov/vuln/detail/CVE-2018-0404
Apache Impala
https://nvd.nist.gov/vuln/detail/CVE-2018-11792
https://nvd.nist.gov/vuln/detail/CVE-2018-11785
https://nvd.nist.gov/vuln/detail/CVE-2017-9792
Elasticsearch
https://nvd.nist.gov/vuln/detail/CVE-2017-12629
Apache Hive
https://nvd.nist.gov/vuln/detail/CVE-2018-11784
Download free 30 days Trial