OCR Sensitive Data Discovery
Nowadays we hear from everywhere that sensitive data is very important. Businesses should create and develop the security of sensitive data and follow different national and international regulations and acts about data protection. Moreover, a lot of companies use cloud storage, like S3 from Amazon, for keeping everything they need. According to a recent survey more than 50% of companies host a huge amount of sensitive data in cloud storage.
The most important point for businesses is to build a strong security system that lets find and protect all sensitive data across different places. And one of the most significant aims for businesses is to classify and identify all data that they hold in the storage. Moreover, it is a big question of how to identify sensitive data from everything else because it needs another level of security according to different laws and regulations. If the business can not provide an appropriate level of protection of sensitive information there will be a huge amount of fines and penalties. And of course, it is too hard to recover the reputation and clients' trust. And what should businesses do to find and protect every piece of sensitive information spread across the storage?
Every company struggles with the implementation of appropriate security tools. As far as S3 allows to keep everything in its buckets there are mixed structured (tabular data), semi-structured (JSON format), and unstructured (text, videos, photos, etc.) data. And here stand a lot of questions. What tool can help in this situation? How unstructured data can be recognized? And what if we keep sensitive information on images? Here we will relieve you of such questions. We introduce you our Data Discovery tool with Optical Character Recognition that helps you to solve all your worries. We have upgraded our tool. Before we could discover semi-structured and unstructured data in S3 due to NLP feature, and now with the help of OCR technology we can recognize sensitive data even on images. Today we will pay our attention to how to discover sensitive data with OCR Data Discovery.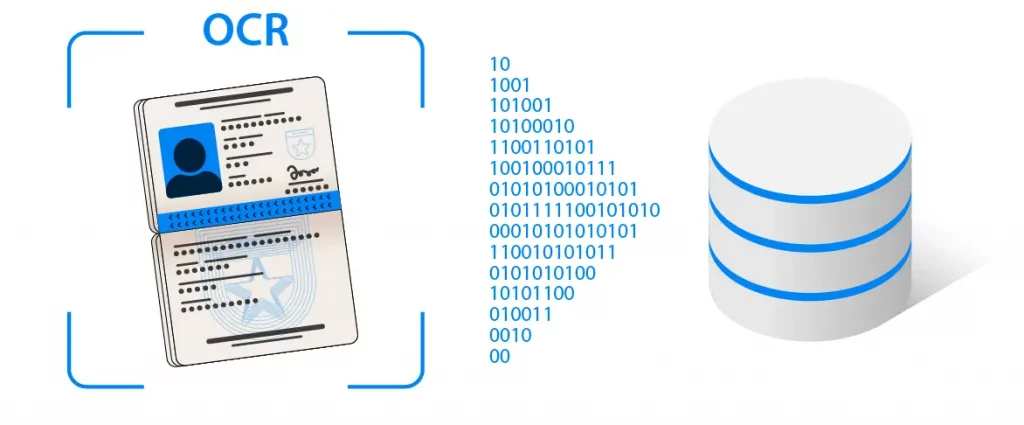 What Is Optical Character Recognition (OCR)?
Optical Character Recognition technology is a tool that can recognize text from images (scanned documents, photos, etc.) and convert it into a machine-readable format. It is not a new technology: it became popular in the 1990s when there was an attempt to digitize historical newspapers. After that, the technology was improved and became more accurate and more efficient.
Thanks to the development of this technology, now with OCR any text from an image can be converted into a searchable format. It means that these texts become more available and you can access them faster and easier. Such texts become more convenient in use in different spheres and fields. For example, it is a very useful tool in the financial sphere. Thanks to it there is an upgrade of the security of transactions and risk management. Moreover, OCR can be used in any other industry for searching for sensitive data.
Also, when the business uses OCR it reduces the risk of a human mistake. So there is no need to waste time on checking and manual data entry. In return, there is plenty of time left for more important tasks for the whole team.
Why Do You Need Data Discovery with OCR?
The first brick in a strong data security wall is a data discovery tool. Businesses need it to find and organize all data that they have in storage. Data discovery with OCR function especially actual nowadays with the growing tendency of keeping the information in image formats.
A lot of businesses store clients' information in photos. For example, financial data (information about credit cards, bank statements, etc.), healthcare information about clients and employees, PII such as photos of identity cards, passports, social security numbers, and other types of information. And, unfortunately, in cases with unstructured data businesses can not absolutely be sure where all these pictures with sensitive information reside. The information about where these files are located can emerge very late. For example, when the company is under audit or worse when there is an investigation of a data breach. Companies suffer harm, pay penalties, and loss reputation and client trust.
To escape such crucial situations you do not need to recreate the wheel. Just deploy Sensitive Data Discovery tool with OCR functionality and be sure that all your data is discovered and you are compliant with the regulations you need.
How Data Discovery with OCR Works
We all understand how difficult it is to manage a huge amount of data across the company. In fact, most of all data leaks happen because of the irresponsible attitude to data storages. That is why your security teams need additional resources and tools to make their life easier. Sometimes simple data discovery tool for structured data is not enough to manage all the data that you have. As we said before, a lot of companies keep sensitive information in images, screenshots, photos, and other formats of unstructured data. That is why it is very important to have a tool that enables you to recognize sensitive data in different formats, structured and unstructured.
DataSunrise OCR Data Discovery is an essential tool for every business which deals with sensitive data. Thanks to our Data Discovery tool with optical character recognition, you can search for sensitive data such as personal data, credit card numbers, driver licenses, and other data contained in images. Here we use Tesseract engine based on neuronet technology for character recognition. Another advantage of our data discovery tool with OCR is that it works with Amazon AWS S3.
Our Data Discovery with OCR supports the following file formats:
PNG
JPEG
TIFF
JPEG 2000
GIF
WebP
BMP
PNM
Let's see how OCR data discovery is implemented in our product. First of all, DataSunrise browses the contents of your Amazon S3 bucket for images. After that the preprocessor prepares images for further processing by making them more contrast and sharp. Then DataSunrise with the help of Tesseract OCR technology recognizes text pictured in images and performs Data Discovery on this text according to specified task settings. As a result, you have the names and location of image files that contain sensitive data. That is all. The process is quite simple, but after that, you will be sure that all your sensitive data is discovered and you can secure it.
Advantages of DataSunrise OCR Data Discovery
Such a type of data discovery tool can be used in different industries for different purposes. Recognition of tables and diagrams is very useful for the financial industry. DataSunrise can discover information in different types of unstructured data even if an image contains a diagram. Moreover, if documents contain digits and text together our tool will recognize sensitive data among them too. As a result, you will get all sensitive information no matter the content of the document.
Your business can stay in compliance with different laws and regulations thanks to Data Discovery tool that we provide. For example, HIPAA, SOX, GDPR, and others. As far as you know where all your sensitive data resides, you can easily secure it. Due to this you can protect your data from leakage and can be sure that you will not face reputation and client trust loss.
Moreover, no matter the fact that our tool discovers a huge amount of unstructured data in images it does not influence the performance much. The whole process is taking just minutes, but in the end, you will be excited about the result.
DataSunrise OCR Data Discovery impresses with accuracy and rapidity. Together with our other solutions, you can build comprehensive security for all sensitive data you have.
Next
DSAR Compliance
Learn More
Need Our Support Team Help?
Our experts will be glad to answer your questions.