Introducing DataSunrise Database Regulatory Compliance Manager
DataSunrise Database Regulatory Compliance Manager – DDRC
Recent years have seen the massive data breaches affecting hundreds of millions of people. As result, the legislators around the world are making the data protection requirements more stringent and introducing the new regulations and privacy requirements. Those regulations could be difficult to implement for organizations that must comply with national and international personal data protection legislation. The protection of personal data is a must for any company or organization today.
DataSunrise is making the complicated things easier and simpler. That could be true even for such a complex need as compliance with strict national and international regulations. Users are expecting their database security provider to ensure automating compliance.
Introducing new DataSunrise Compliance Manager, formally called DataSunrise Database Regulatory Compliance (DDRC).
DDRC helps managing, automating and administrating the regulations such as GDPR, PCI DSS, HIPAA or SOX.
DDRC is integrated with DataSunrise Database Security Suite to analyze the compliance, configure and apply security policies to protect the data in various SQL and non-SQL databases. DataSunrise enables configuring security policies and rules including dynamic data masking, data auditing, blocking an unauthorized access and preventing the SQL injections.
Just in few simple steps user can select one or more regulations to be compliant with and execute on it right away. DataSunrise Data Discovery will automatically find the sensitive information to be protected and audited in accordance with the chosen regulations. The new security policies will be automated. DataSunrise Data Masking and Database Security will obfuscate sensitive data and/or and block suspicious and malicious queries to a database.
Moreover, after users have successfully protected personal data they can set the frequency of automatic report generation. The following types of periodic reports will be generated:
Audit report on sensitive data: a report on all queries to sensitive data.
Security report on sensitive data: a report on all unauthorized queries and SQL injections to sensitive data.
Operations error report on sensitive data: a report on failed operations with sensitive data.
In the result not only the databases will be protected and compliant with the security regulations, but DataSunrise will also continuously monitor users' activity or access to selected database objects. The audit reports will be generated.
Start securing your database now and be in compliance!
Let's review the steps need to take to be compliant with the personal data protection regulation of your choice.
Before starting the process of becoming compliant with GDPR which will actually take only minutes, review how DataSunrise looks now. In the 'Configuration' section in the left pane click 'Database Users'. Here we have a list of users that have already been added to our system. Also, we can add and delete users, also set up and delete groups of users. Here on the page we also have the groups of users we'll be using later. These groups are Chief_Information_Officer, Financial_Department, Sales_Department, Third_Party_Contractors and Suppliers. Later these groups will be assigned different roles to access sensitive information. We have the "postgres" user here which will be in the Suppliers group, the group we're going to assign the lowest access rights.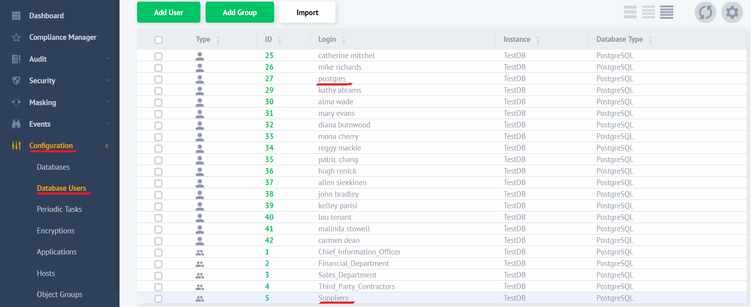 Let's go inside the Suppliers group.
Here you can see our "postgres" user we earlier put in the Suppliers group along with other users, it's the group we're later going to give the lowest access rights to sensitive information. Users outside a group will have no access to sensitive information.
Now let's start the GDPR compliance process. You need to do the following very simple steps to be GDPR compliant:
Go to the Compliance Manager in the left pane of the DataSunrise GUI.
Set a Logical Name and the Database Instance you want compliant with the regulation of your choice. The Logical Name will be used as a prefix for your reference when creating Object Groups, Periodic Tasks, Rules&Reports.
Specify a Database, Schema and Table so that DataSunrise could search for sensitive information. We've selected to protect Customers table from the Public schema of the New_DB database. If you don't specify the Data Discovery Parameters your whole database(s) will be scanned to find sensitive data.
Then set the Search Criteria. You can search by Standards or by Information Types. With DataSunrise you can be compliant with GDPR, HIPAA, PCI DSS, ISO27001. To be compliant with all existing data protection regulations you need to check all available regulation checkboxes. In the picture we opted to be compliant with the GDPR.
Then set the Frequency of Discovering sensitive information. DataSunrise will be automatically retrieving newly added sensitive data at set intervals which could be even minutes. The Periodic Discovery feature finds new sensitive data and protects it. In the result your database(s) are protected 24/7 including newly added sensitive data.
Then click "Next Step".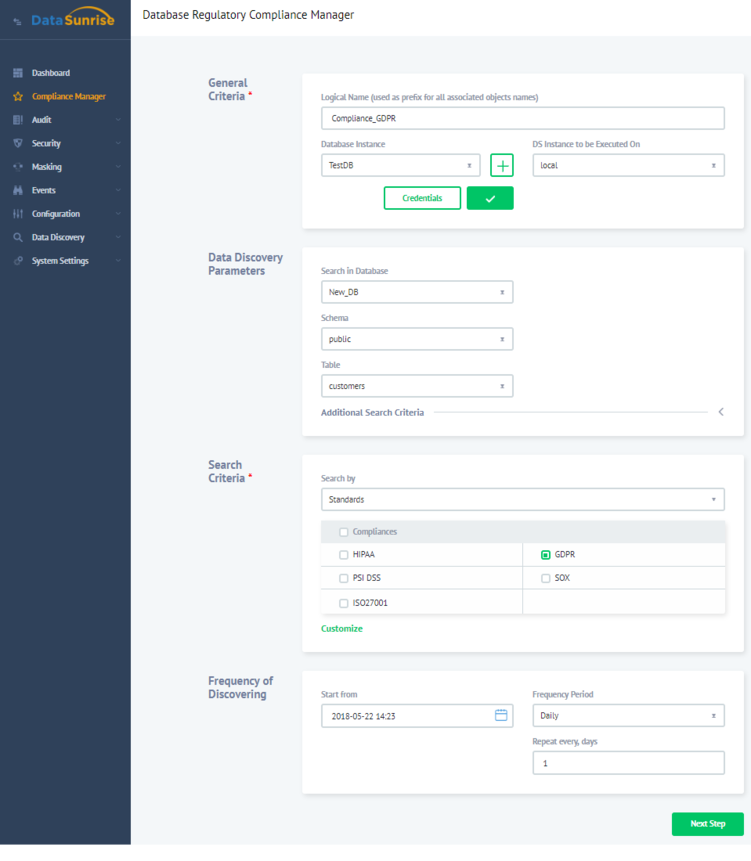 The next step displays the selected table with the methods used for customer personal information masking. By checking the checkboxes in the Check column and then clicking "Customize Masking" you can additionally select the masking methods. Click "Next Step".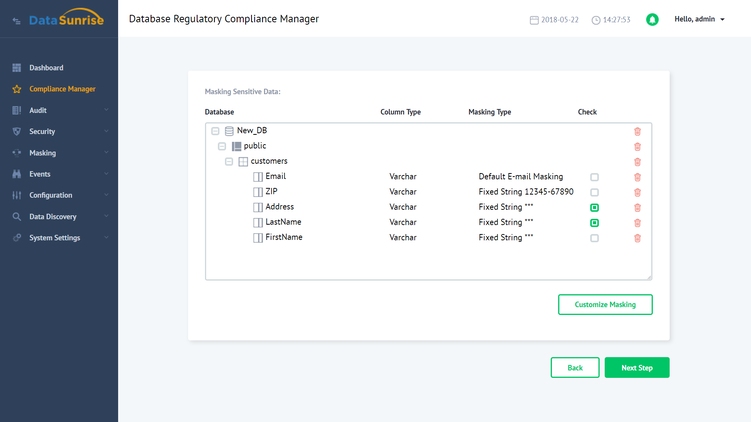 The next step assigns roles for the DS User Groups. Also, you can set up a new user group. For the last two groups Third_Party_Contractors and Suppliers we've assigned the lowest access to sensitive information rights. Users outside a group will have no access to sensitive information.
After that set the reporting settings. We'll be using the PDF format. Click Finish and you're good to go.
The next page shows that you're now GDPR compliant and lists newly created security policies. Amazing! Just a few clicks and you're compliant with the GDPR regulation which came into effect on May 25, 2018!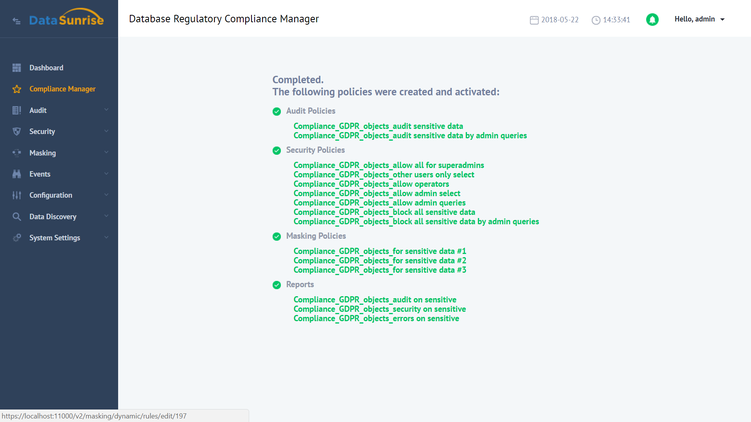 Let's imagine that the "postgres" user was active in our database. And how can we understand what that user was doing and at what time? We can see that in the Audit Events and the Audit Reports.
Now, let's generate a report. To do that go to Events section in the left pane and then Report Gen. After that click the report type you want (audit, security or operations). We'll go for an audit report. Then scroll down and click "Start Now" to generate the report immediately.
Click the download icon in the Reports section to download the PDF report. Let's open the PDF report and see what information it contains.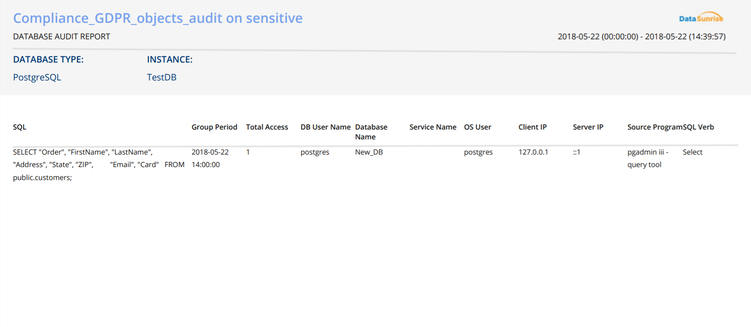 As it is an audit report it shows that "postgres" user has executed a Select query to sensitive data in our database. We assigned the lowest access rights to this user in the DS User Groups, still this user can execute this type of query. But all what this query returns from our PostgreSQL database is just masked data.
In addition to an audit report you can additionally have a security report on all blocked queries to sensitive data and an operations error report on failed operations with sensitive data.
DataSunrise makes sure that you comply with all existing personal data protection legislation (GDPR, PCI DSS, HIPAA or SOX) and it will take you probably less time you have spent to read this post.
Next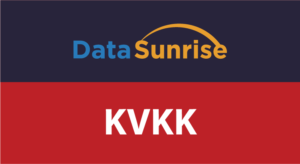 KVKK Compliance
Learn More
Need Our Support Team Help?
Our experts will be glad to answer your questions.