DataSunrise Data and Database Security for HP Vertica
DataSunrise Security Suite for HP Vertica secures and protects Vertica database from hackers and malicious insiders. DataSunrise is fully compatible with Vertica, because it understands the database's behavior and is able to analyze the traffic generated by various database functions. Here are some of the supported features:
key benefits:
All user authentication methods: Kerberos, GSSAPI, SSPI, MD5, SHA256, RADIUS, Trust.
Processing of SSL-encrypted traffic.
Analyzing and storing data of all query types, including specific replications queries and multiple queries.
Supported version:
HP Vertica
About HP Vertica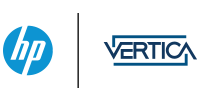 HP Vertica is a column-oriented database management system mostly used for real-time Big data analytics.
Vertica runs on Linux-based commodity enterprise servers combined into clusters. Vertica uses extended ANSI SQL-99 interface to work with analytic queries. The Vertica platform can be integrated with data cleaning and reporting mechanisms and is compatible with most third-party analytics solutions. The product can be integrated with Hadoop to use MapReduce to access to Vertica's data.