Creating a DataSunrise Virtual Machine on Microsoft Azure
Microsoft Azure is a cloud computing platform for deploying, building and managing services and applications through a global network of Microsoft data centers. Companies are moving data and applications to IaaS/PaaS environments to enjoy economic benefits of cloud computing. However using cloud computing is effective only when reliable defensive implementations are in place.
DataSunrise Database Security provides real-time database protection against outside and inside threats. It is an instance of multifunctional security software, all functions of which are controlled by a convenient unified interface.
Data Protection and Firewall. Advanced SQL analysis algorithms enable to reveal any security policy violation. DataSunrise detects SQL injections and blocks other malicious queries.
Audit function performs logging of user activity and changes made to the database. While auditing is used mostly for data breach investigations, monitoring helps to detect attempts of access rights abuse and other suspicious activities. Helps to comply with GDPR, PCI-DSS, SOX, HIPAA.
Dynamic and Static Data Masking features secure confidentiality of sensitive data by hiding selected tables from unwanted users. The function is useful when working with third-party developer companies that need partial access to the database.
Sensitive Data Discovery helps to detect and find confidential data in your databases.
Creating a DataSunrise virtual machine on Microsoft Azure
1. To enter the Microsoft Azure portal, go to https://portal.azure.com/.
2. Enter your credential and sign in.
3. In order to create a new Virtual Machine, click the "New" node and type "datasunrise" into the search bar.
4. Select "DataSunrise Database Security Suite" and click the "Create" button.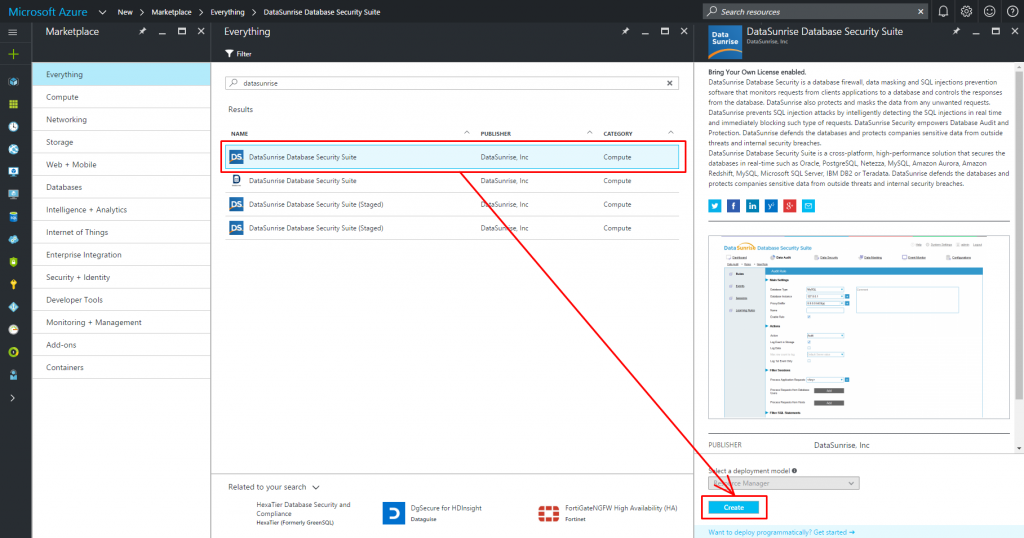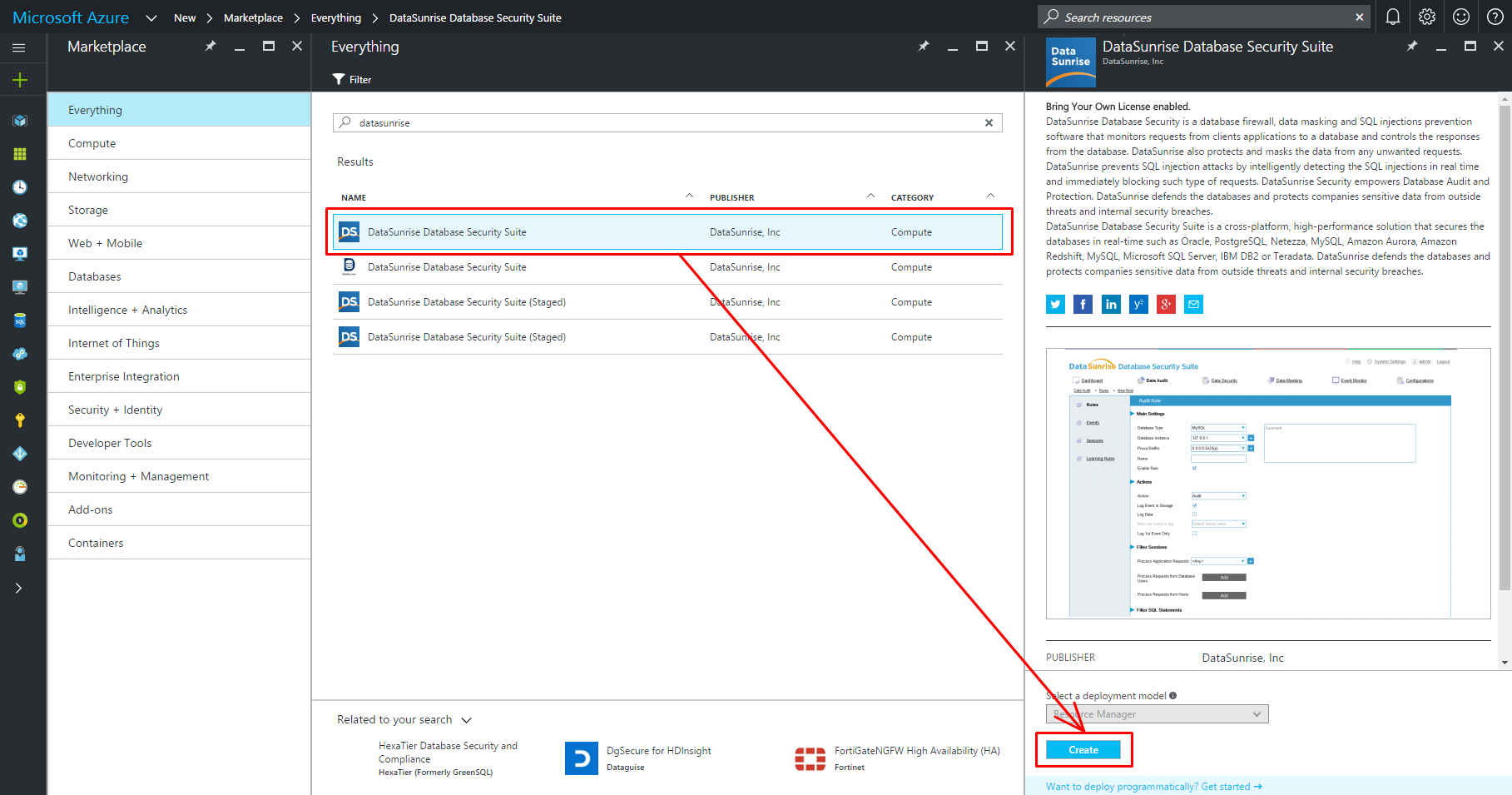 5. Configure basic parameters: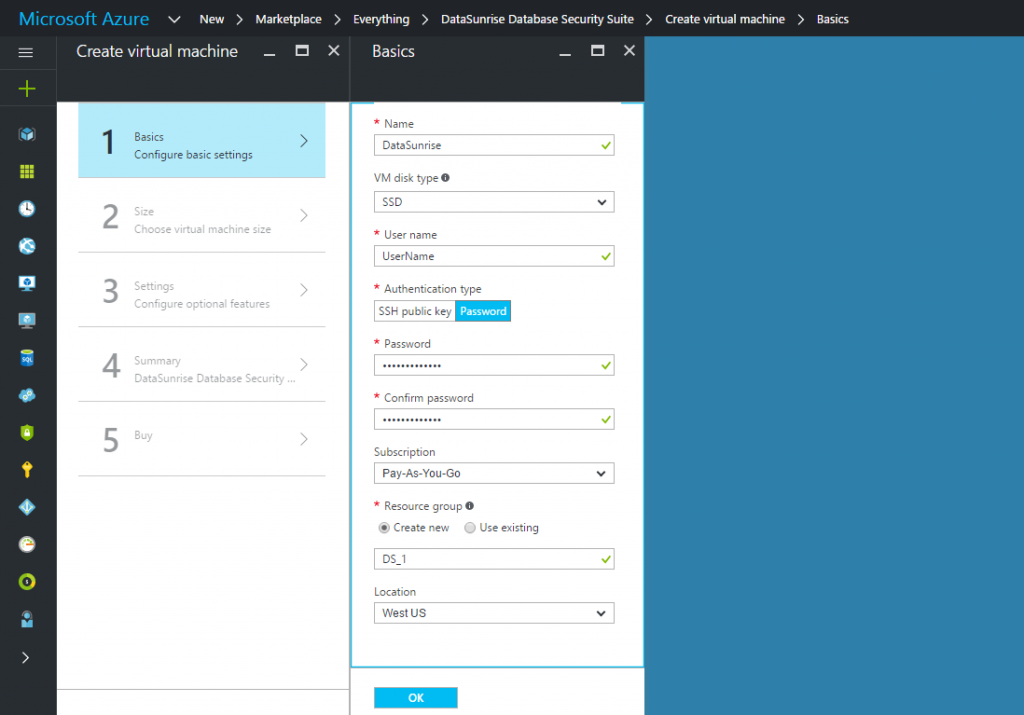 Assign a VM name
Select the SSD or HDD disk type
Assign a user name and password
Create a new resource group or select from existing groups if you want to apply the same life-cycle, permissions and policies
Select the VM server location
6. Choose the optimal size and other parameters according to your requirements and click Select.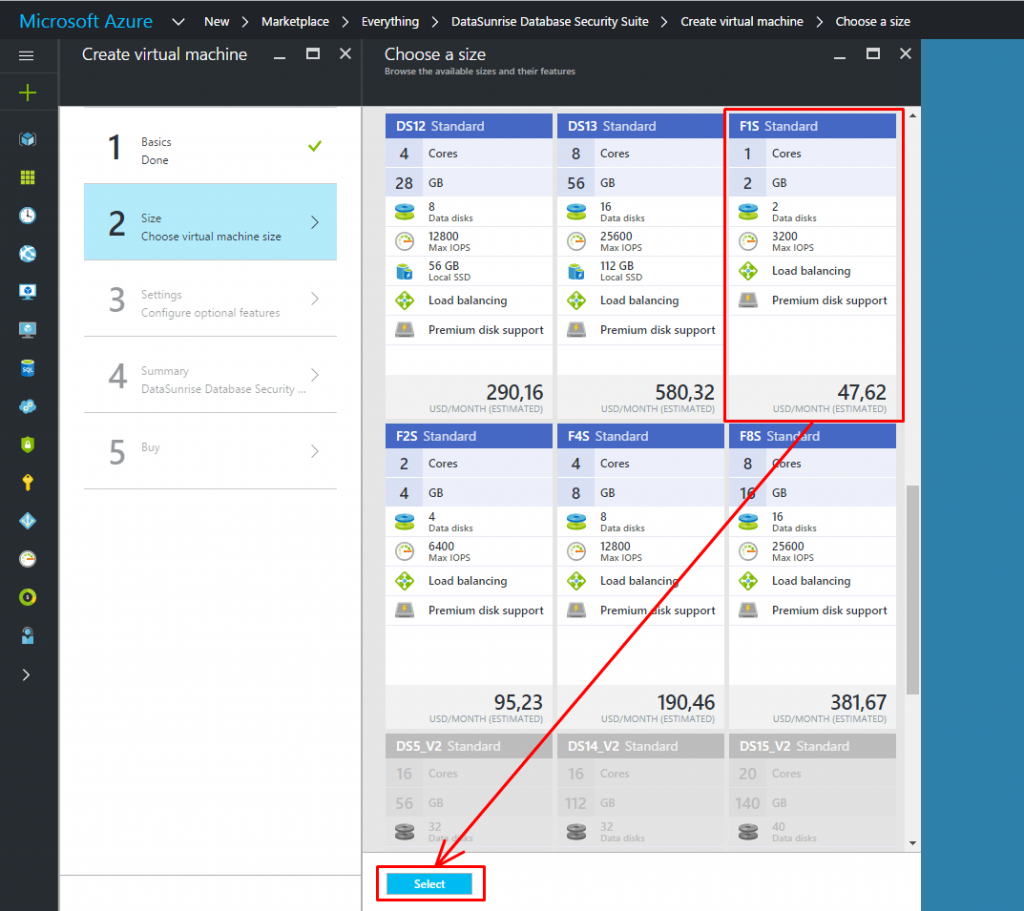 7. Configure optional features.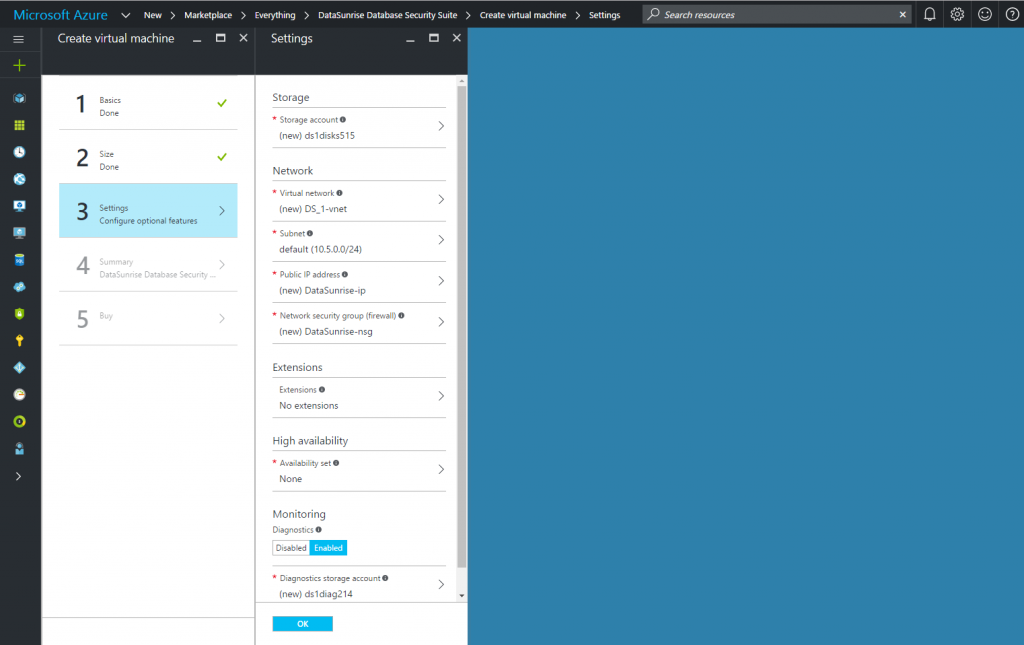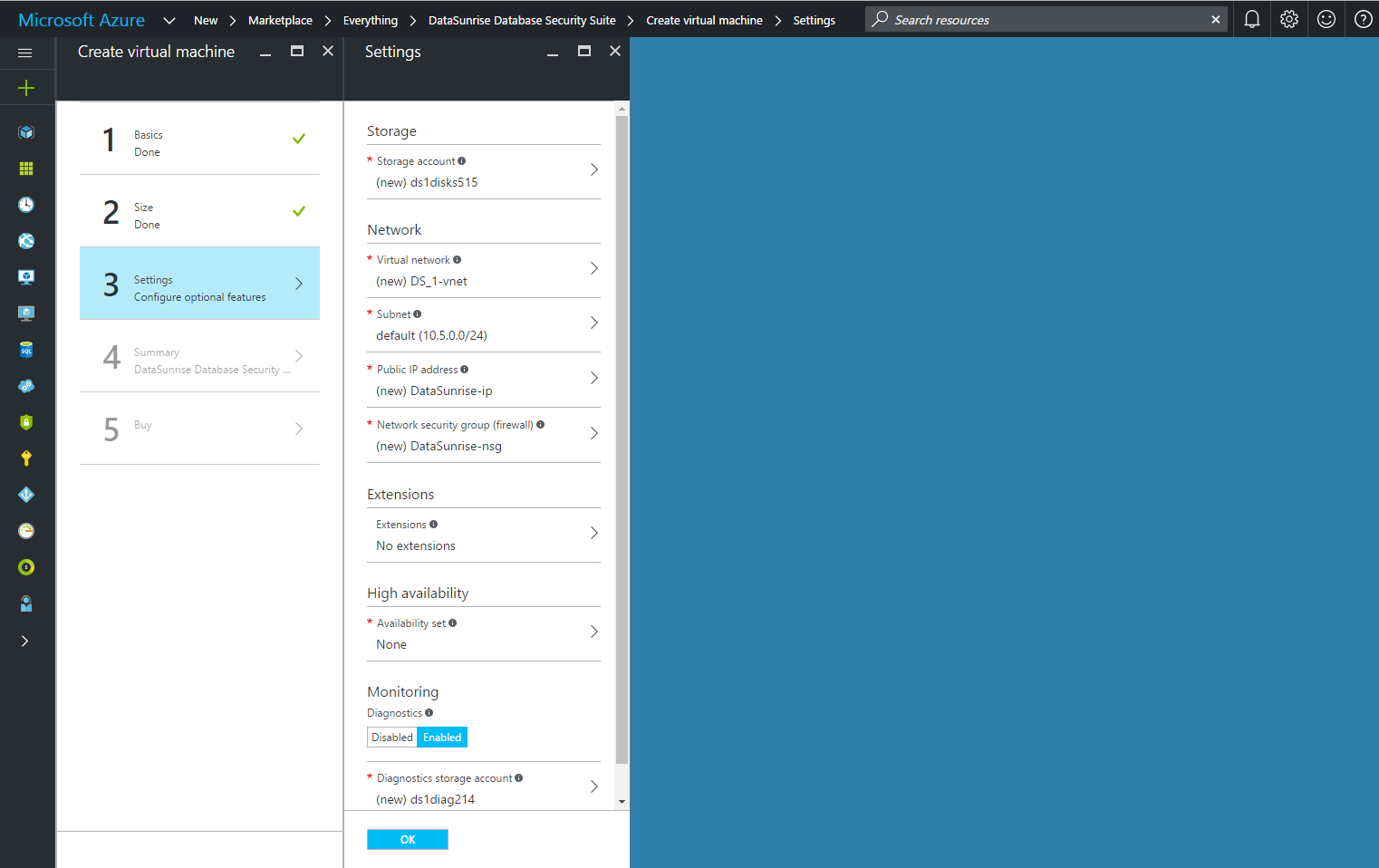 8. Wait for a validation to complete, verify the VM information and click OK.
9. Get acquainted with the Terms of use and privacy policy and click Purchase.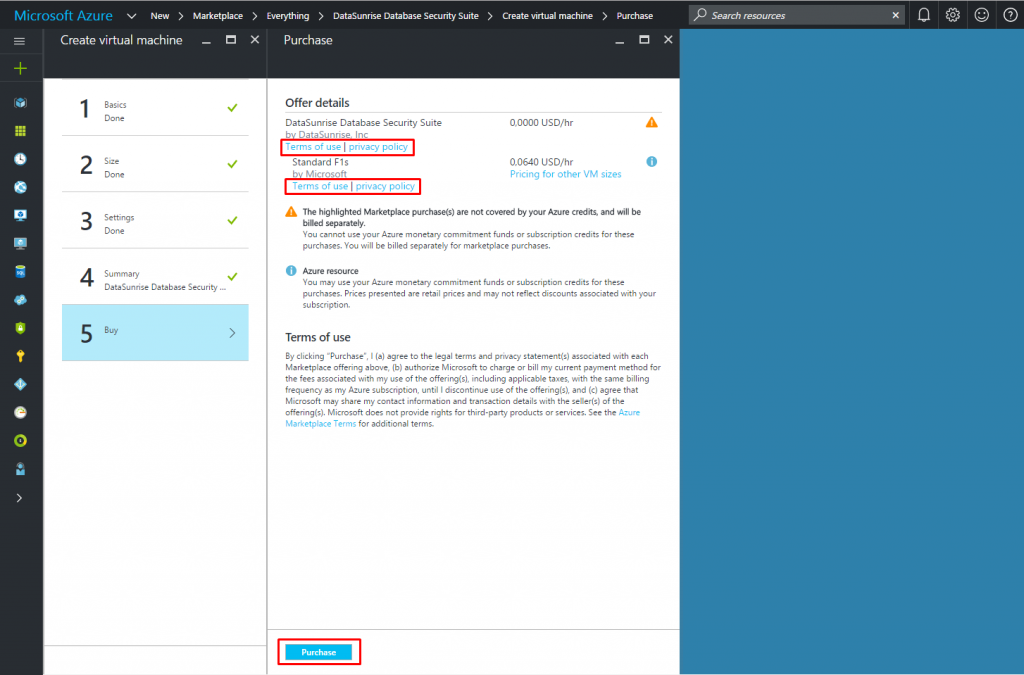 10. Wait for the virtual machine to deploy. It may take up to 15 minutes.
Starting to work with DataSunrise Database Security Suite
1. Click the Virtual Machines node and select your newly created VM.

2. Copy the IP address of the virtual machine.

3. To enter DataSunrise GUI, type the following URL into the browser address bar using the IP address of your Virtual Machine: https://IP_address:11000
4. On DataSunrise GUI login page, use "admin" as a username and leave the password field blank.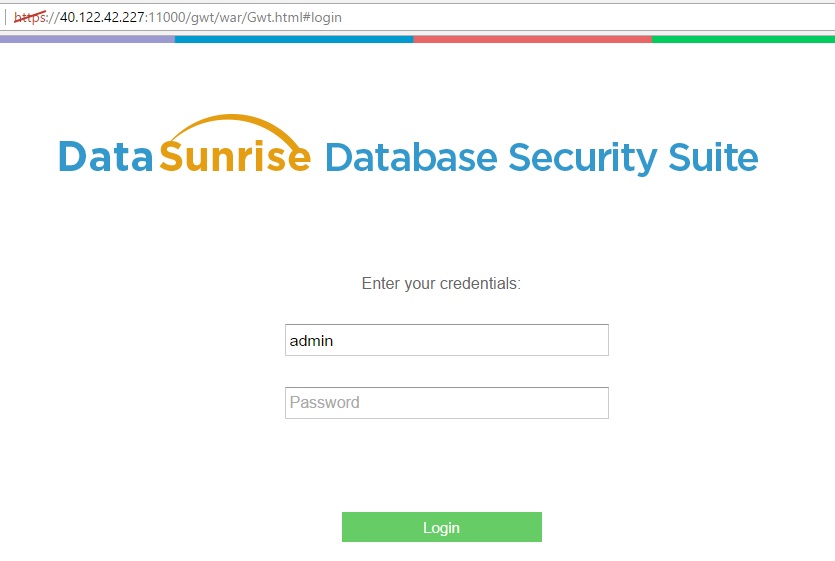 5. Further on, you need to enter your DataSunrise license key. In case you don't have a license key, download a one-month-free trial version of DataSunrise Security Suite.
To download the trial version, go to /download/, enter your credentials, choose your operating system with the type of the database and click download.
A letter including a trial license key will be sent to a specified e-mail address.
Copy the license key and paste it on the GUI window requesting the license.
DataSunrise Database Security is now ready to protect your database. Following these simple steps will provide you a reliable tool that provides protection against intrusion attempts, SQL injections and insider threats for your applications and data hosted on Microsoft Azure. Refer to DataSunrise User Guide for further instructions.
DataSunrise supports all major databases and data warehouses such as Oracle, IBM DB2, IBM Netezza, MySQL, MariaDB, Greenplum, Amazon Aurora, Amazon Redshift, Microsoft SQL Server, Microsoft SQL Azure, Teradata and more. You are welcome to download a free trial if would like to install on your premises. In case you are a cloud user and run your database on Amazon AWS or Microsoft Azure you can get it from AWS market place or Azure market place.
DataSunrise is also available on Azure Test Drive for your convenience.
Next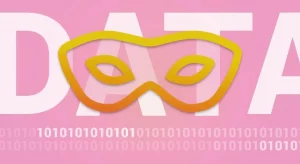 Static & Dynamic Data Masking Made Simple with DataSunrise Data Masking Tool
Learn More
Need Our Support Team Help?
Our experts will be glad to answer your questions.