DataSunrise Database Performance Monitoring for YugabyteDB
Performance Monitoring by DataSunrise is a very useful tool for Yugabyte database administrators. Analyses and performance assessments are the necessary options to find weak points that can cause operating problems in databases. With DataSunrise Database Performance Monitoring your Yugabyte database will be under systematic review. Thanks to it you will know about bottlenecks and disruptions during the database performance and fix these problems in time.
With DataSunrise Performance Monitoring you will get the full overview of your Yugabyte database performance with minimum efforts and expenses. You will have detailed information about the database and it makes its management more easier and effective. Thanks to Performance Monitoring you will have enough information to understand what, why, and where is wrong in your Yugabyte database.
For analyses, you will get the list of SQL commands, initiated scripts, and executed queries. With DataSunrise generated logs you can easily detect and analyze what exactly affects DBMS operation. Logged data together with diagrams help you to clearly visualize all processes so you will be able to eliminate any problems that you may have.
Moreover, logged information includes logging all queries to the database. Due to it, developers can see redundant and unexpected queries. Also, it is a very useful thing when built-in tools are not enough or even do not exist. Using Database Performance Monitoring by DataSunrise you will be able to detect vulnerabilities thanks to the query result log.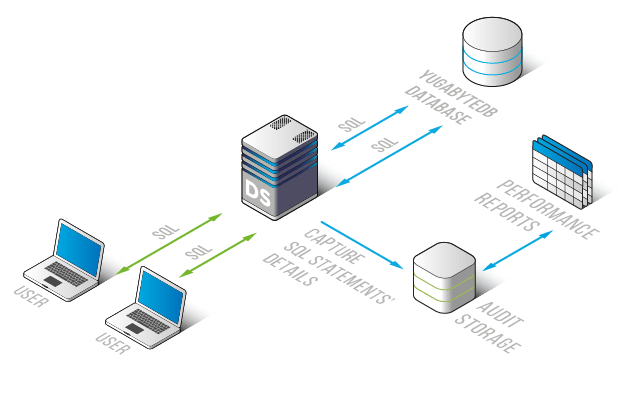 Yugabyte database Performance Monitoring logs the following query types and their execution frequency: INSERT/UPDATE/DELETE/SELECT. Moreover, you can see row number in these operations and diagrams that illustrate their dynamic of changes.
You will also get information about the number of operations executed per second, the volume of data that has been transmitted and received, and other useful information connected with Yugabyte database performance.
With Database Performance Monitoring by DataSunrise for Yugabyte, you will be able to monitor database performance without efforts and expenses. You do not need to worry about additional tools for performance monitoring, as far as our solution for Yugabyte will provide you the whole picture of database processes and bottlenecks, so you can analyze and eliminate problems within a short period of time.
1. Select Product Type
2. Select Supported Databases
View Tech Info
Want to Know More?
Our experts will be glad to answer your questions.
Contact Us