DataSunrise Database Performance Monitoring for TiDB
DataSunrise Database Performance Monitoring for TiDB is a tool that helps you to support your DBMS functionality on a high level. Performance Monitoring gives you a comprehensive overview of databases. Monitoring for TiDB allows you to detect operation errors and resolve them in time. Moreover, Database Monitoring provides you with a clear picture of your TiDB for analysis that helps you to find solutions for resolving any problems in your database.
You can easily configure Database Performance Monitoring for TiDB for your needs, especially when you need the DBMS performance analysis. Thanks to data and diagrams collected by DataSunrise you will have accurate and comprehensive visualization of TiDB processes. Performance Monitoring collects information about vulnerabilities of your database for you to better understand and eliminate them.
This information contains logging of queries to the database. Thanks to it, administrators or developers can catch redundant and unexpected queries that help to identify bottleneck database operations and detect operating delay causes. Logged queries also can help when you need to analyze application functioning if its own logging is not enough or is not included. Moreover, thanks to SQL queries list you can not only detect performance problems but also find a solution for them.
Database Performance Monitoring for TiDB works very simply, but effectively. It logs queries and their execution frequency in accordance with their types. Here you can see the number of rows in different operations and thanks to diagrams you can also trace their changes in time. Moreover, here you can see the number of operations executed per second and data volume that has been transmitted and received by a server.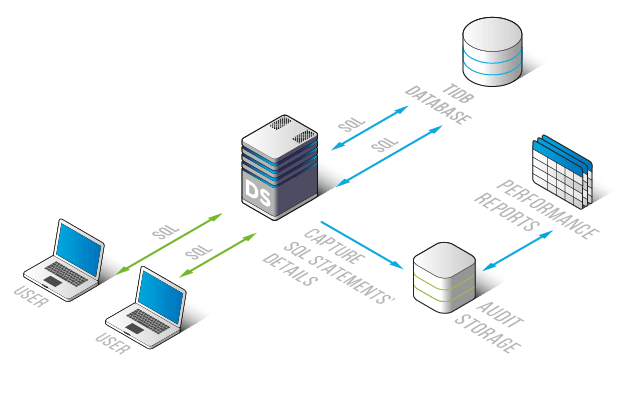 Database Performance Monitoring is a big part of the security system. Thanks to it you will always be updated about performance issues with your databases. Moreover, you will be able to find effective solutions to solve these issues. Our Performance Monitoring tool is very useful for assessment purposes as far as you do not need to install any other tools to analyze TiDB processes and operating delays. Thanks to our tool for TiDB you always be sure that your sensitive data is safe and there is a minimal possibility of an outside threat.
1. Select Product Type
2. Select Supported Databases
View Tech Info
Want to Know More?
Our experts will be glad to answer your questions.
Contact Us