DataSunrise Data Masking for TiDB
Data Masking for TiDB is a very useful tool when you need to give access to the database for third parties and non-privileged users. Using Data Masking for TiDB you can provide a database with fake but still realistic data for unauthorized users to prevent data leakage. Thanks to Data Masking tool you are always sure that sensitive data is protected and you are compliant with different acts and regulations. Moreover, it helps you to prevent accidental data leakage.
Databases with sensitive information can be shared with third parties for different purposes. For testing, modifications, analytics, statistics, etc. Our Data Masking tool for TiDB lets you protect sensitive data when non-privileged employees need access to it or when you transfer databases to third parties. To protect sensitive data our tool is obfuscating or randomizing the data keeping it realistic. Therefore users can perform operations with data without the risk of compromising confidentiality and privacy.
DataSunrise performs dynamic and static data masking. Static Data Masking is very useful for testers and developers. Using Static Data Masking you are creating a copy of your database table with obfuscated data. It means that the original database with sensitive data is not revealed.
The difference is that dynamic data making obfuscates data in real-time, on the fly. You do need to make a copy of the database and update it every certain period of time.
Data Masking intercepts the SELECT transactions and changes them according to the masking rules. After that, the client gets a table with masked values in the columns that were specified in the rules. It is worth noting that masked data is not reversible. It means that it is impossible to get the original data from masked values.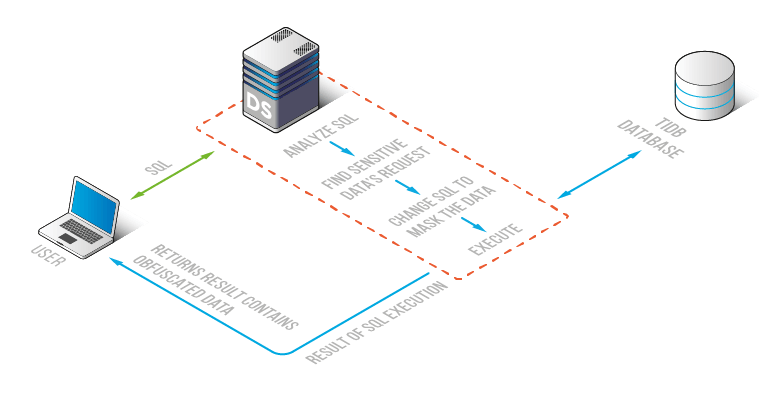 With our Data Masking tool for TiDB, you will be always sure that your sensitive data remains secure and confidential. Data masking rules are adjustable and flexible they do not lose their efficiency and productivity. Moreover, using Data Masking from DataSunrise you will be compliant with different regulations that protect sensitive data, such as SOX, HIPAA, GDPR, etc.
1. Select Product Type
2. Select Supported Databases
View Tech Info
Want to Know More?
Our experts will be glad to answer your questions.
Contact Us