DataSunrise Data Masking for Amazon DocumentDB
With Data Masking tool for Amazon DocumentDB, you can make it impossible for cyber criminals and third parties to know exactly what private information you have in your databases. Such a thing can be achieved with dynamic data masking. This tool modifies original data in the database output in such a way it becomes unreadable and useless for the bad guys.
Whenever companies need to provide access to their databases they are faced with the problem of revealing sensitive data. You need to provide access to your databases because of different reasons: for upgrades, modifications, for testers and developers to rectify failings, analytics, statistics. There could be a whole bunch of reasons but you should always protect sensitive and private data that resides in your database no matter what. Such things increase the possibility that data could be leaked or compromised.
Let's see how data masking for Amazon DocumentDB works. Database administrators or owners can create masking rules for different cases. You can adjust and change them at any time. Data masking tool intercepts all queries that are directed to the database. After that, the queries are modified and when they reach Amazon DocumentDB the requested information is already masked. Thereafter, third parties can have access to your database for their purposes and sensitive and private data is safe.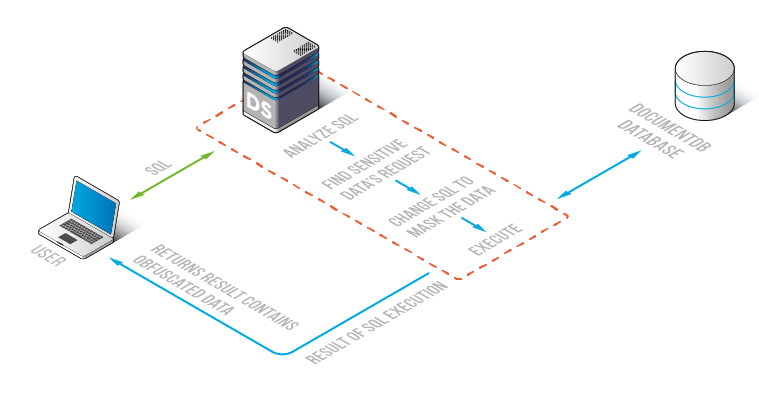 DataSunrise Data Masking for Amazon DocumentDB is a dynamic data masking, so it means that all data is obfuscated on-the-fly. As the result, untrusted users can get masked results only.
When you are using Data Masking for Amazon DocumentDB, you are always sure that your sensitive data remains secure and confidential. With dynamic data masking, you do not need to have additional space in the storage for a duplicate copy of the masked database. Despite the fact that data masking rules are adjustable and flexible they do not lose their efficiency and productivity. With our Data Masking tool, you can be compliant with a lot of sensitive data regulations and acts including GDPR, HIPAA, SOX, etc.
1. Select Product Type
2. Select Supported Databases
View Tech Info
Want to Know More?
Our experts will be glad to answer your questions.
Contact Us