DataSunrise Database Performance Monitoring for Amazon DocumentDB
Database Performance Monitoring for Amazon DocumentDB by DataSunrise is an essential tool for developers and database administrators. Thanks to it you can constantly monitor the performance of Amazon DocumentDB and detect operation errors. Here you can detect problems in your database in-time and resolve them. Our Database Performance Monitoring lets developers debug and develop applications, make performance assessment, keep track of weak spots, detect causes of the delay, and more.
It is crucial to monitor databases as far as they contain sensitive data critical for any business. Our tool helps you to simplify the monitoring of your databases and operation assessment. It helps developers and administrators immediately identify bottleneck database operations and reveal operating delay causes. Thanks to this tool you can solve problems caused by system malfunctions and software errors.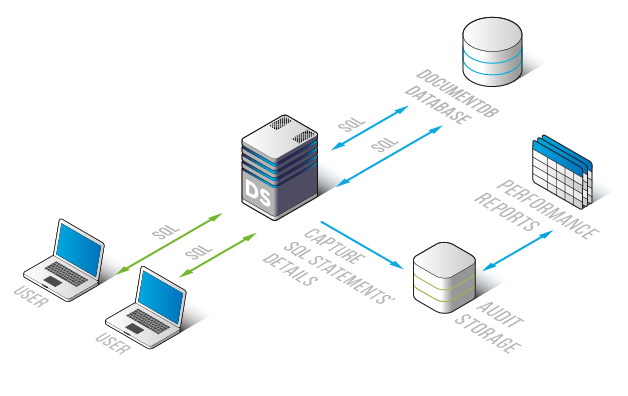 DataSunrise enables you to:
Examine logs of queries sent to the database;
Collect response logs;
Estimate time required to execute a query;
Track down dynamics of query change with time;
Determine query types and frequency of their execution;
Obtain general information on the number of operations executed per second;
Evaluate data volume that has been transmitted and received by a server, etc.
With a big number of parameters, you can examine initiated scripts and detect the one that causes problems. Moreover, the information logged by DataSunrise may be adapted to the needs of a particular company. By collecting information you can locate and analyze the performance problems of Amazon DocumentDB. Moreover, you can find the root of the problems and delays, get rid of them and prevent their recurrence.
Database Performance Monitoring is an essential part of a security system. Thanks to it you will always know about performance issues in your databases and be able to find effective ways to solve them. You always be sure that your sensitive data is safe and there is a minimal possibility of an outside threat.
1. Select Product Type
2. Select Supported Databases
View Tech Info
Want to Know More?
Our experts will be glad to answer your questions.
Contact Us