DataSunrise Database Performance Monitoring for MS SQL Server
DataSunrise Database Performance Monitoring Tools for MS SQL Server can bring to the surface DB performance problems. It is easy to examine and analyze data logged by DataSunrise MsSQL Performance Monitoring for getting a detailed overview of DBMS processes, queries executed in transactions, their time and frequency as well as any other necessary information. The DataSunrise MsSQL Performance Monitoring component facilitates the process of searching for vulnerabilities causing trouble to MS SQL Server performance.
Accurate and comprehensive MS SQL Server performance overview allows to keep all processes under systematic control. This may be easily achieved via DataSunrise MsSQL Performance Monitoring Tools. In case MS SQL Server confronts any obstacles, at your immediate disposal will be data required to find out what affects DBMS performance and causes trouble to its normal operation, such as:
Logging of queries. For instance, this may allow you to spot redundant or unexpected queries.
Logging of query responses. Useful means to identify any disruptions in an application.
Time indicating query execution and dynamics of query change in time.
Query types (INSERT/UPDATE/DELETE/SELECT) and indication of their execution frequency.
Number of rows in INSERT/UPDATE/DELETE/SELECT operations and diagrams of their changing in time.
Number indicating operations per second.
Data volume that is transmitted and received by the server, etc.
The information logged by the DataSunrise MsSQL Performance Monitoring tool will simplify the process of seeking out bottlenecks during database operation, DBMS performance and operating delays analysis, application development and debugging, and identification of other unexpected problems that may appear in your data storage system.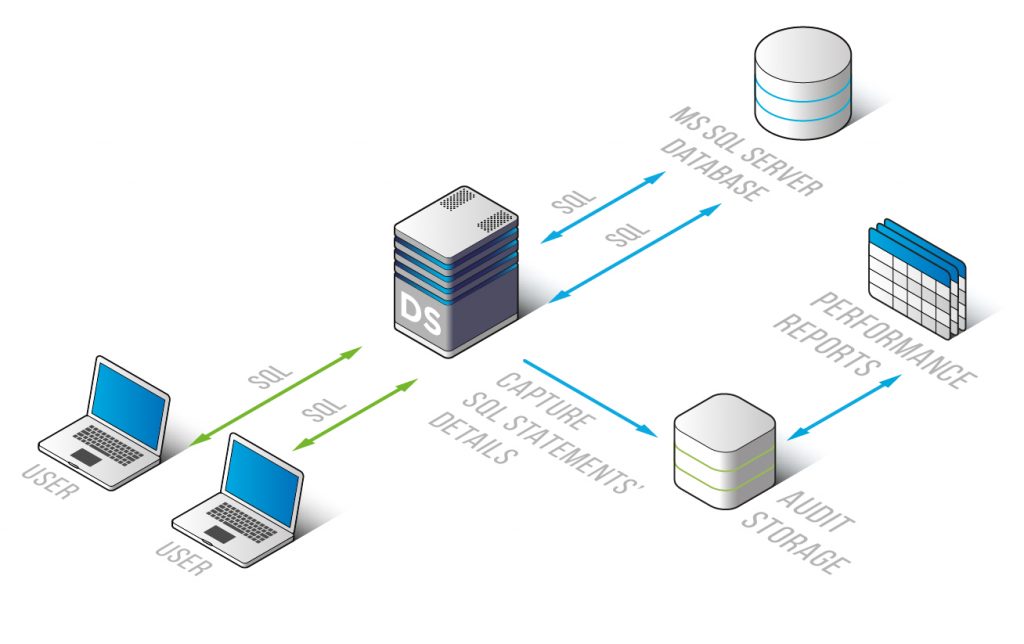 DataSunrise MsSQL Database Performance Monitoring is a reliable DBMS performance control mechanism for you to make conclusions based on data and diagrams logged by DataSunrise. Remain completely confident you will get a clear picture of what provokes certain unexpected problems in MS SQL Server.
DataSunrise with its integrated MsSQL monitoring and protection tools is an effective assessment solution for MS SQL Server as well as other DBMS that you may operate.
1. Select Product Type
2. Select Supported Databases
View Tech Info
Want to Know More?
Our experts will be glad to answer your questions.
Contact Us