Performance Monitoring for Amazon OpenSearch
DataSunrise Data Performance Monitoring is a tool that provides you with an accurate and comprehensive performance overview including the functioning and capabilities for Amazon OpenSearch. Thanks to this information you can find and troubleshoot issues that cause performance problems and malfunctions.
Performance Monitoring examines the Amazon OpenSearch performance simplifying operation assessment that helps to immediately identify bottlenecks and assume appropriate measures. This tool collects the needed data and you just need to analyze it to eliminate what interferes with effective database functioning. DataSunrise provides the following information during the performance monitoring process:
Query log
Query result log
Query execution time
Operation number per second
Data volume transmitted/received by a server, and other information required for troubleshooting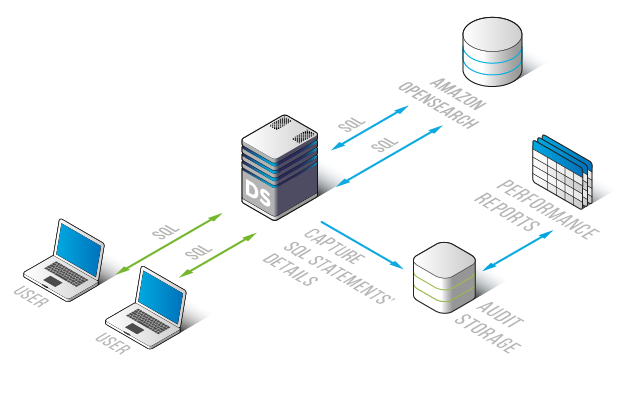 With this information, you can analyze the query log for the identification of redundant or unexpected developer queries. Moreover, while examining the query result log, you can find vulnerabilities that can occur during application functioning. For the most accurate result, you can inspect query change dynamics, consider the execution frequency of INSERT/UPDATE/DELETE/SELECT types, study diagrams to clarify how they change in time, and more.
Thanks to Performance Monitoring for Amazon OpenSearch you minimize efforts and time spent on monitoring database performance. It also enables you to mitigate the possible expenses arising from collecting data to detect obstacles preventing normal operation. With the collected information, you will be able to conduct an assessment without any additional third-party tools.
1. Select Product Type
2. Select Supported Databases
View Tech Info
Want to Know More?
Our experts will be glad to answer your questions.
Contact Us