Database Firewall for Amazon OpenSearch
DataSunrise Database Firewall is an easy-to-use solution for preventing cyberattacks and malicious inside activity. The firewall acts as an intermediary between users and the server, so all commands go through the firewall. It protects Amazon OpenSearch databases from unauthorized access to sensitive data, suspicious or forbidden transactions and queries in real-time.
Amazon OpenSearch Firewall is easy to deploy and work with. It compares the parameters of the queries with previously created security rules and executes only safe commands. Any malicious or suspicious queries will be blocked. Moreover, the firewall analyzes typical queries and uses self-learning algorithms to block queries that violate security policies.
The firewall helps you to prevent data breaches and cyberattacks from the inside, as far as employees are one of the main threats to data security. The firewall analyzes queries and creates an allow list for the typical commands. All queries will be compared with that allow list and security rules. DataSunrise can recognize and protect from SQL injections such as Boolean exploitation, out-of-band exploitation, automated exploitation, Union exploitation, and others.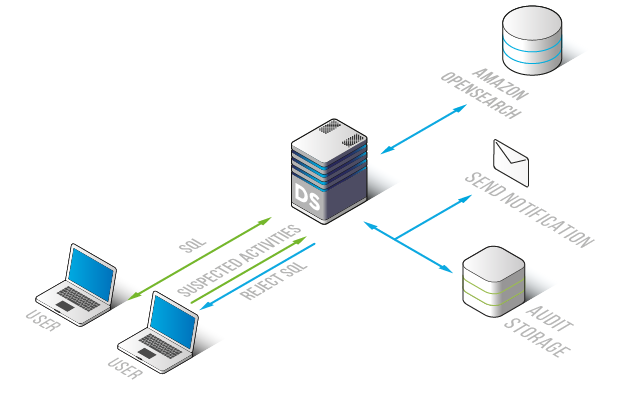 Thanks to the firewall you will be able to control privileged access to certain database parts. Also, when you configure rules for the firewall you can set them to block queries with a certain type or name, queries that came from a certain IP address or client application, queries of a certain SQL statement, etc. You can add email to receive notifications if there was a policy violation to timely respond to a possible danger. Moreover, you can view information about triggered rules in the Events Section.
Deployment of the firewall is a simple process and does not require any additional applications. You can easily switch to the Sniffer Mode or the Proxy Mode with almost no impact on the performance. DataSunrise Database Firewall for Amazon OpenSearch is an effective security tool that protects your corporate and sensitive data.
1. Select Product Type
2. Select Supported Databases
View Tech Info
Want to Know More?
Our experts will be glad to answer your questions.
Contact Us