DataSunrise Database Firewall for Scylla
DataSunrise Firewall for Scylla is the tool that helps to detect suspicious database user behavior and protect from external and internal attacks in your database in real time. All components of this tool represent a reliable database security solution that is easy to deploy, configure and manage.
DataSunrise Scylla Firewall is a multifunctional data security solution aimed to secure development, production, and test databases. It includes continuous monitoring of incoming and outgoing traffic and thoroughly resides and blocks all types of unauthorized and fraudulent activity. If any suspicious activity is detected, you will immediately receive security reports via email, SMS or instant messengers.
DataSunrise's Scylla database firewall must be running in proxy mode to work. DataSunrise intercepts all incoming and outgoing traffic. A DBA or owner of the database pre-determines the security rules according to which all queries will be filtered. The firewall has a configurable set of threat patterns that are used to identify security threats and cyberattacks timely.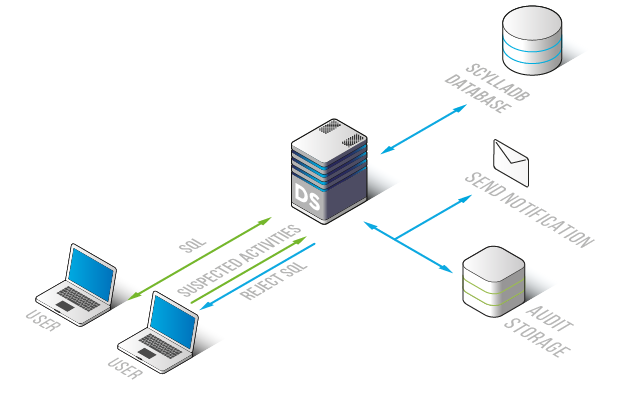 Before starting work, DataSunrise analyzes all queries to the database and all the information received. If the query looks suspicious, it is blocked. This significantly reduces the possibility of security threats in your Scylla database.
Discover the following benefits of Scylla database Firewall by DataSunrise:
Processing and tracking all DDL and DML transactions;
Failover configuration;
Integration with third-party solutions such as SIEM systems;
Functioning as authentication proxy;
Collection and registration of information about all operations performed;
Sophisticated algorithms to detect and block SQL injection attacks timely.
Try DataSunrise comprehensive security solutions for your business and keep your Scylla database safe at all times.
1. Select Product Type
2. Select Supported Databases
View Tech Info
Want to Know More?
Our experts will be glad to answer your questions.
Contact Us