Database Activity Monitoring for Amazon OpenSearch
DataSunrise Activity Monitoring for Amazon OpenSearch is a tool that helps in the continuous analysis and recording of users' operations in databases. This tool provides you with a clear picture of user behavior. Thanks to it you can trace database activity in real-time, detect suspicious user activity, and reveal security system vulnerabilities by analyzing incoming and outgoing traffic. Activity Monitoring enables you to react to any suspicious activity and unauthorized actions by notifying database administrators.
The collected information can be used to prevent data leakage or investigate cyber attacks. Activity Monitoring solution also helps you to be compliant with national and international data security laws and regulations such as SOX, HIPAA, GDPR, and others.
Working in a Sniffer mode, the Amazon OpenSearch monitoring solution analyzes traffic without any changes in the server. With Sniffer mode you can easily audit incoming and outgoing traffic and use it for Learning Mode for DataSunrise. The Proxy Mode requires some adjustments but provides wider possibilities. In this mode, you can modify user queries and block ones that violate security policies.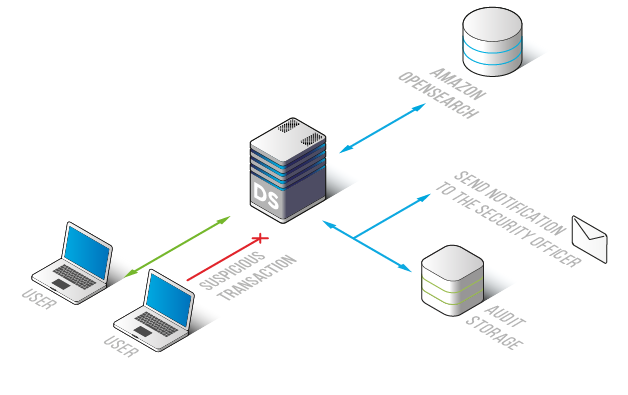 Thanks to Activity Monitoring no changes are left unnoticed. Thanks to the Learning Mode, DataSunrise can memorize typical user behavior and creates a list of authorized queries and prohibited ones. When the rule is triggered, database administrators receive a notification about it and can take steps to stop the possible attack.
With the convenient interface with customizable features, you will be able to see codes of queries and results of their execution, changes made to security audit rules and firewall settings, user session data, including such information such hostnames, IP addresses, used applications, etc.
Moreover, Activity Monitoring has integration with SIEM systems that analyze security alerts in real-time. Also, all data generated during the monitoring process is saved by default in internal and external databases if you specify them.
DataSunrise Activity Monitoring for Amazon OpenSearch is a simple and effective solution that keeps track of user activity and recognizes potentially dangerous activity. It helps you to stay secure and compliant with data regulation acts and laws.
1. Select Product Type
2. Select Supported Databases
View Tech Info
Want to Know More?
Our experts will be glad to answer your questions.
Contact Us