DataSunrise Database Performance Monitoring for Hydra
Performance assessment and analysis are required for noticing weak points that cause operating problems. DataSunrise Performance Monitoring tool enables you to keep Hydra processes under systematic review, identify bottlenecks, and any disruptions during the data warehouse performance.
DataSunrise enables you to minimize the efforts and expenses during the performance overview. If there will be any functionality obstacle, you can easily go to the reports with accurately tracked processes.
Performance Monitoring tool generates logs that simplify your analysis of performance problems of your Hydra warehouse. With the logs you can do the following:
Get the list of SQL commands.
Evaluate executed queries.
Examine initiated scripts.
Asses operating delay causes.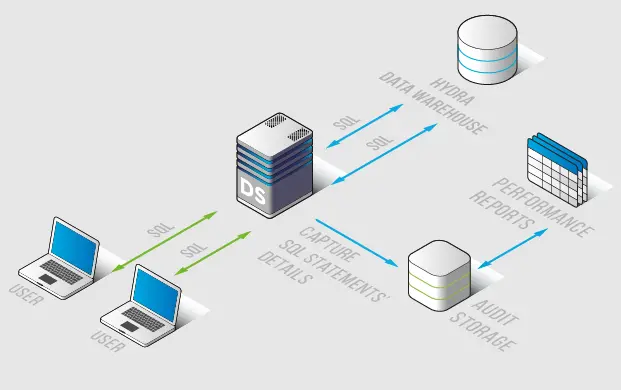 Thanks to this information represented in diagrams, you can clearly visualize what may influence Hydra processes and how it can be eliminated.
Queries are indicated according to their types (INSERT, UPDATE, SELECT, DELETE) and their execution frequency. You can see the row number in the INSERT, SELECT, UPDATE, DELETE operations and diagrams illustrate their change dynamics. The collected information also includes an indication of the time required for each query, the number of operations executed per second, the volume of data that has been transmitted and received by the server, and other important information that enables you to analyze Hydra's performance.
With DataSunrise Performance Monitoring, you can easily spot bottlenecks, processes and operating delays, and any other disruptions at the first sign without any additional tools.
1. Select Product Type
2. Select Supported Databases
View Tech Info
Want to Know More?
Our experts will be glad to answer your questions.
Contact Us