DataSunrise Data Masking for Hydra
DataSunrise Data Masking for hydra obfuscates sensitive data to false characters. Thanks to data masking unwanted users can not see the real sensitive data. Also, it decreases the possibility of data breaches and data leakage.
Data Masking is an essential tool that protects your sensitive data from unwanted views and data leakage. When you need to share sensitive data with third parties, but also need to limit the amount of available sensitive data for them, data masking can easily obfuscate the excessed sensitive data. DataSunrise performs both dynamic and static masking.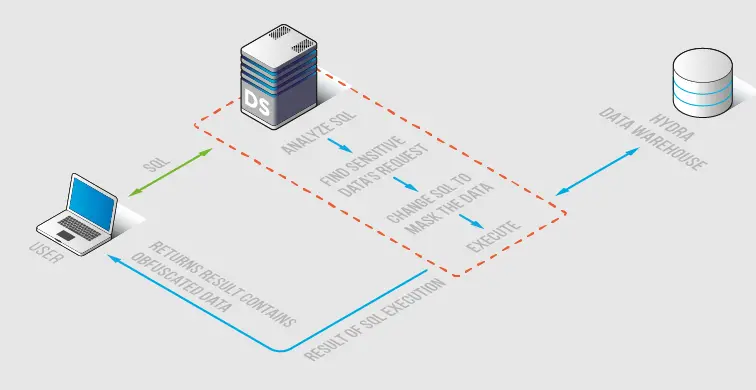 Dynamic Data Masking obfuscates sensitive data on the fly, at the moment of a query. It means that data does not leave the database, so there is not a copy of the real database with sensitive information as in static masking. During the dynamic masking process, data is obfuscated according to the predefined masking rules. Then, the requester will get obfuscated data.
Static Data Masking creates a copy of the real database with sensitive information. A copy contains already obfuscated information. If you choose static masking, there is no way to retrieve the initial information from the obfuscated data. Also, if you need to keep the data up to date, you need to update the data in the database copy when you need it.
DataSunrise Data Masking for Hydra is a useful tool when you need to share your data with third parties that do not have the right to see sensitive data. Also, data masking keeps your data safe and secure. That helps to be in compliance with different national and international data security laws.
1. Select Product Type
2. Select Supported Databases
View Tech Info
Want to Know More?
Our experts will be glad to answer your questions.
Contact Us