DataSunrise Data Masking for Apache Cassandra
Cassandra Data Masking from DataSunrise is a tool specifically created to ensure data privacy and keep corporate information safe. In order to prevent exposure and leak real data can be obfuscated statically or dynamically. The following sensitive data can be discovered and hidden: address, name, credit card details, medical information, etc. When Cassandra Data Masking from DataSunrise is activated, it makes sensitive data meaningless or unreadable for unauthorized readers.
There may be many cases when database owners or admins need to give a direct access to a proprietary database to third-parties. Such situations arise when the system is improved, modified or some issues are rectified. However, when doing that it's necessary to ensure that the data remains intact and secure. That's when you can use one of DataSunrise function, namely, Data Masking. Cassandra Data Masking can be used either statically or dynamically. These 2 modes of operation are sure to meet every database security requirement of our customers. However, masking algorithms in both cases remains the same: a query to a database is intercepted by Cassandra Data Masking component. After that masking rules and policies set by the customer come into play. These rules and policies govern the whole data masking process. Unauthorized queries return only fake data. How Cassandra Data Masking from DataSunrise works is illustrated below: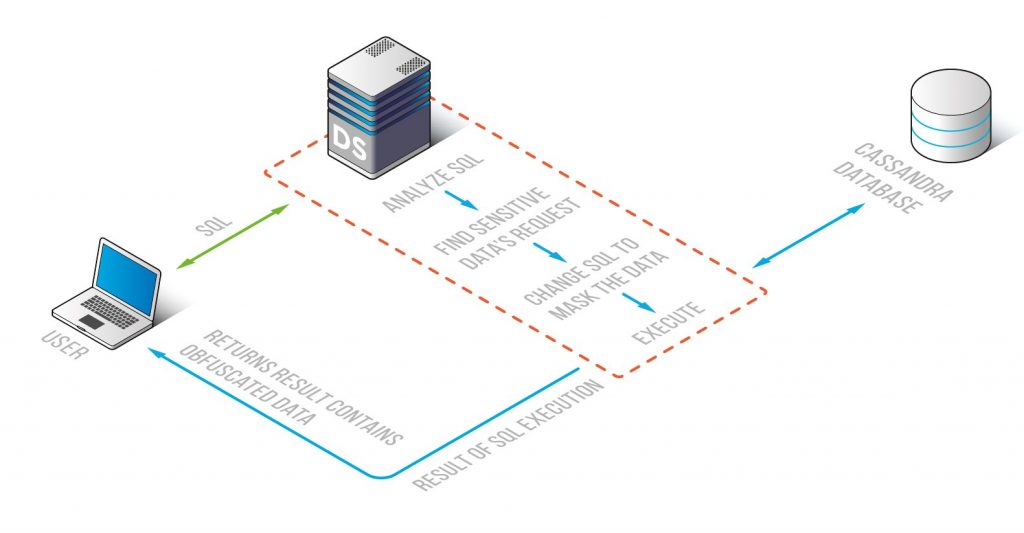 So, what is the difference between the static and dynamic Cassandra Data Masking? When you use static Data Masking, DataSunrise Database Security Suite creates a database copy with all sensitive information hidden. In the result a duplicate copy of a database is created which looks identical to the original database with the one exception that the data inside is fake.
You can give access to masked databases without fear That prevents leaks and exposure of data kept in company proprietary databases.
Cassandra Dynamic Data Masking is different from Static by the moment when non-privileged users and unauthorized requests retrieve fake data from databases protected by DataSunrise. With Dynamic Masking this is done on-the-fly. That means that you don't need additional storage space for a duplicate database copy as is the case with Static Data Masking.
Each of the data masking methods has its own upsides and downsides and our customers can choose which one is convenient for them. But be sure to use Cassandra Data Masking from DataSunrise if you want your databases totally protected.
1. Select Product Type
2. Select Supported Databases
View Tech Info
Want to Know More?
Our experts will be glad to answer your questions.
Contact Us